Prior to this week, I'll admit – I was a McDonald's breakfast virgin. I frequented the golden arches only post-1am and I rarely strayed from my usual order of 5 Chicken Selects + Sour Cream Dip. However, at the age of 26, I thought it was about time that changed (in a big way).
The time had come to experience the acclaimed McDonald's breakfast menu firsthand, and in order to make a fair assessment of the menu, I knew I needed to sample it all in one sitting. So, I logged onto the website at 10am, selected my various breakfast items (totalling 8 courses) and waited for my fast food buffet to arrive.
30 minutes later, the A to Z of a Maccas morning lay on my table – a fine selection of tightly wrapped food items awaiting my judgement. The line up?
1 x Breakfast Wrap. 1 x Bacon Roll. 2 x Hash Browns. 1 x Cheesy Bacon Flatbread. 1 x Maple Syrup and Sausage Pancake. 1 x Double Bacon and Egg McMuffin. 1 x Bacon and Egg McMuffin. 1 x Sausage, Cheese and Egg Bagel.
To kick things off, I started with the modest looking Breakfast Wrap – a tortilla feat. slices of buttery cheese and a generous helping of bacon. The bread was soft and perfectly yielding (an essential attribute of any good quality wrap). It was a great start. Things were looking up.
Next up was the Bacon Roll, which also passed with flying colours (beige, beige, bit of pink and more beige). Luckily, beige was tasty. The roll was pillowy soft and the flavour layers were spot on.
The two Hash Browns also delivered – a real power couple. No surprises there.
Course number 4 was the Cheese & Bacon Flatbread. Good, although I assume the ratio of bread to filling was miscalculated in the meal prep stage, as the flatbread was too thick for the thin layer of cheese and I found myself reaching for ketchup sourced in-house. Nevertheless, we'd hit the halfway house and the score was a strong 4/4 – would breakfast again.
But that's when the buffet started to fall south.
Unfortunately, the Syrup and Sausage Pancakes earn nothing more than last place. There's a special place in hell reserved for the chef who places a fossilised sausage steak on top of a delicious pancake stack.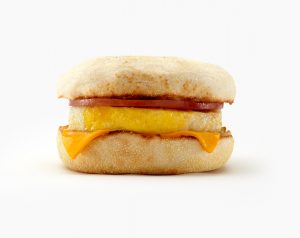 Less offensively, but arguably the most mediocre of the bunch, were the McMuffins (plural). Yes, I had ordered both the single and double McMuffin – since they have been the go-to amongst hungover teens for decades – but neither hit the spot. According to the McDonald's website, a McMuffin is 'a pork sausage patty, lightly seasoned with herbs, a free-range egg and a slice of cheese, in a hot, toasted English muffin'. Fake news. They were both dry and tough – a dire combo.
At this stage of the mid-morning feast, I was feeling underwhelmed and in need of a miracle if McDonalds was going to remain one of my fav fast food chains.
Enter – the Sausage, Cheese and Egg Bagel. One might assume that consuming around 2 kilograms of cheese x bacon x carb-heavy food items in one sitting meant I might have grown tired of this mix, but it excelled. The soft chewy bagel served as the perfect vehicle for the melted cheese and salty bacon, while the sausage brought a much needed meaty, peppery punch to the table. A crowd pleaser (but I wasn't sharing).
To conclude, there's no denying that if you're a fan of cheese, bacon and breaded buns you'll be all over this spread. Saying that, I'm sure I speak for many when I say that a couple more choices on the menu pas de bacon and cheese would be well received – particularly after powering through almost 8 courses of buns stuffed full of the dangerous duo.
Morgan Spurlock – I salute you.