I recently went for breakfast at Amber, and since then I've been wondering what on earth took me so long to make it down there – it was one of the best breakfasts I've had this year! With a Middle-Eastern focus, they offer a huge range of breakfast dishes, from the obligatory avocado toast to classic shakshuka and zucchini halloumi fritters – I wanted to eat absolutely everything on their menu!
A beautifully smoky burnt aubergine came piled onto warm fluffy pitta bread with sumac yogurt, chilli butter and poached eggs. Their shakshuka was perfectly spiced, served with traditional Simit bread, with the option to add chorizo or halloumi. Even a relatively simple avocado toast came on an absolute slab of wonderful sourdough, piled high with avocado and seasoned to perfection.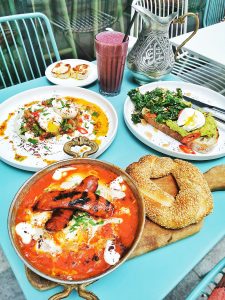 Unlike many brunch spots, who sub out the humble full English to make space for exciting breakfast dishes on the menu, here you can get both, as well as lighter options like an acai bowl if you're feeling virtuous; there's literally something for everyone.
For those who, like me, can't resist a sweet finish to any meal, they have delicious homemade granola bowls, challah toast (their take on a traditional French toast), plus a whole counter of delicious cakes and pastries!
For me an absolutely vital part of any brunch (or any meal let's be honest!) is good bread, and all of their bread was so SO good – thick slabs of wonderful sourdough, incredibly soft fluffy pittas, deliciously savoury cornbread and perfectly baked simits. I'd have happily munched my way through a whole basket of the breads alone!
Unlike many other great cafes and restaurants, it's close to the City which is ideal for a mid-week breakfast, but in my opinion it's well worth travelling away from central to visit them on a weekend – Plus, they have bottomless brunch!
Amber, 21 Piazza Walk, Aldgate East, London E1 8QH