Amongst my friend group, The Blues Kitchen is known as a great place for a night out (remember those?). But for me, I think about their weekend brunch. Two hours of bottomless drinks, stacks of fluffy pancakes, the sound of everyone ooh-ing as someone cuts a knife through their perfectly poached egg and cocking their heads to watch the bright orange yolk come cascading over their breakfast dish.
I've been to brunch once before to their Shoreditch site at the start of the year. It was for their Bottomless Gospel Brunch – so on top of brunch, there was an insanely great gospel choir on stage as people ate, drank and danced.
I was intrigued by how their Brixton site would be. But as soon as I walked through the door, I was completely swept up in the buzz of fellow brunch-goers.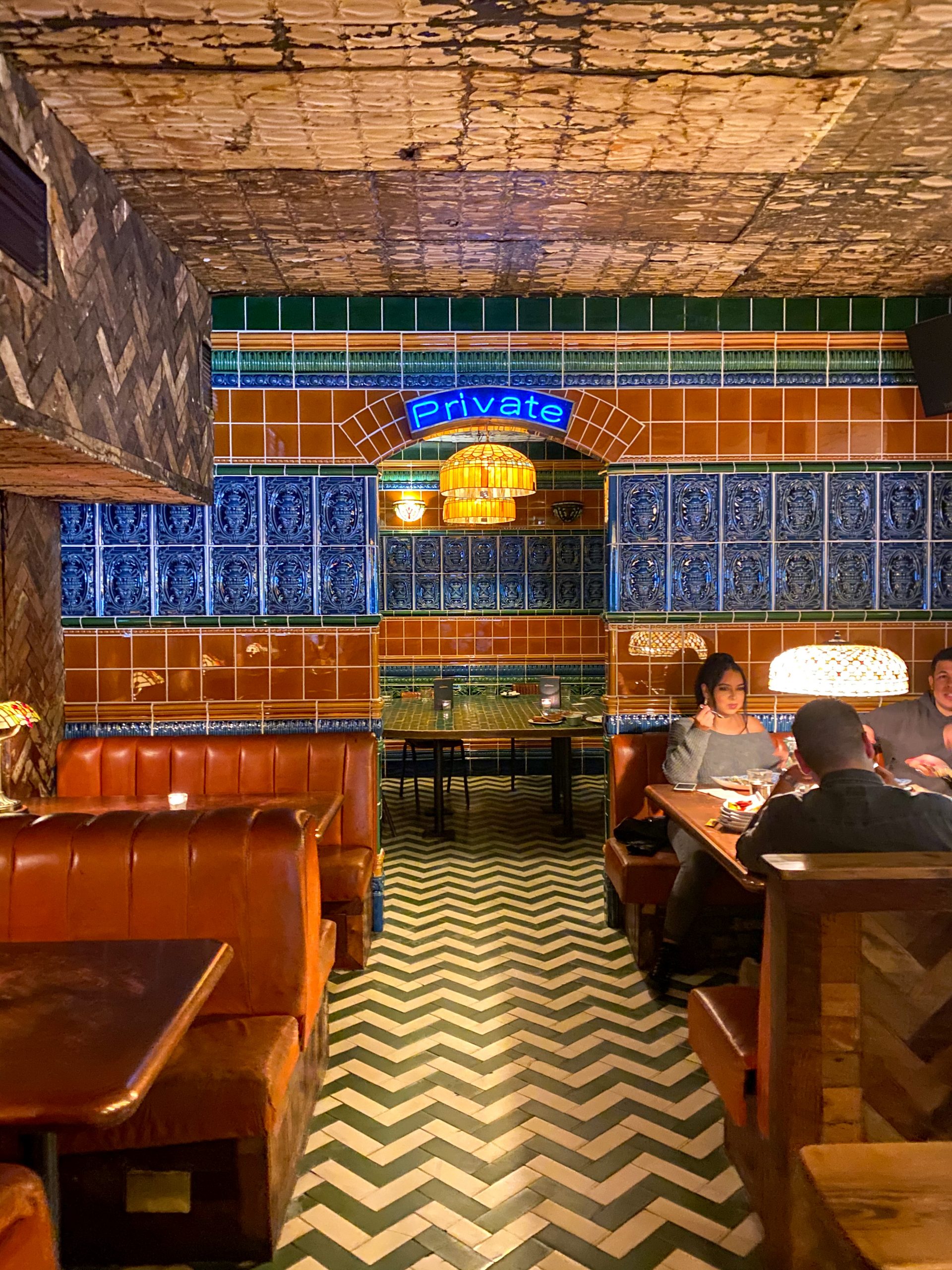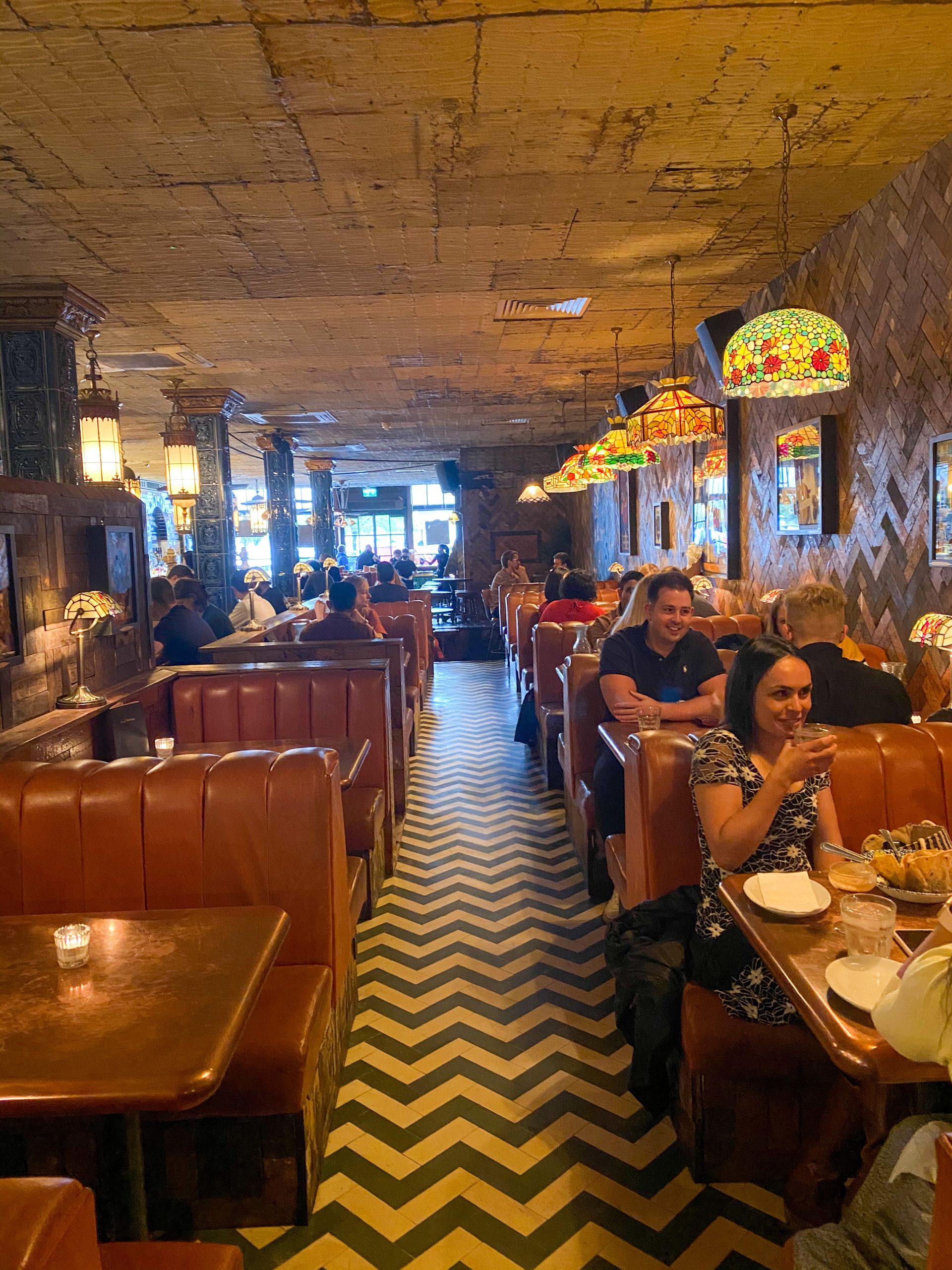 We started things off with a coffee – most of us deciding on oat flat whites, which were delicious.
When asked if we were going to opt for a Bottomless Brunch, we turned to each other and nodded in agreement. Following this, we were told that our session would be two hours, and we could pick between Bloody Mary's, Mimosa's and Prosecco as our drink of choice for those two hours.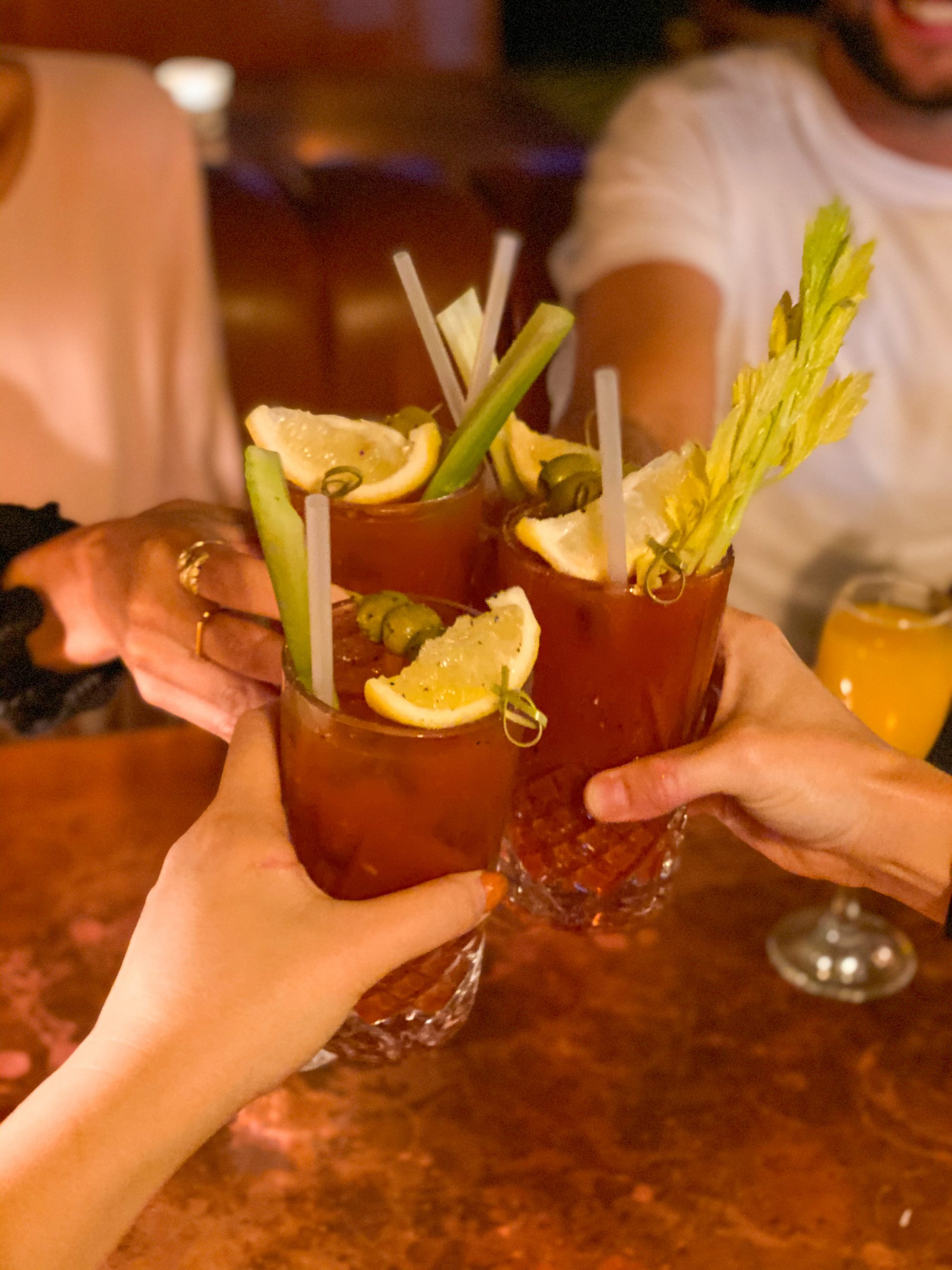 One of us was going Sober for October, so she started things out by joining us with a Virgin Mary. Later on, she had a Virgin Apple Mojito, and then a Lychee Lemonade, both of which was DELICIOUS. So if you're not planning on boozing, you've got plenty of great options.
The menu is fantastic. You've got a section of brunch dishes, burgers (served with fries or salad), salads, sharing starters, platters and side dishes.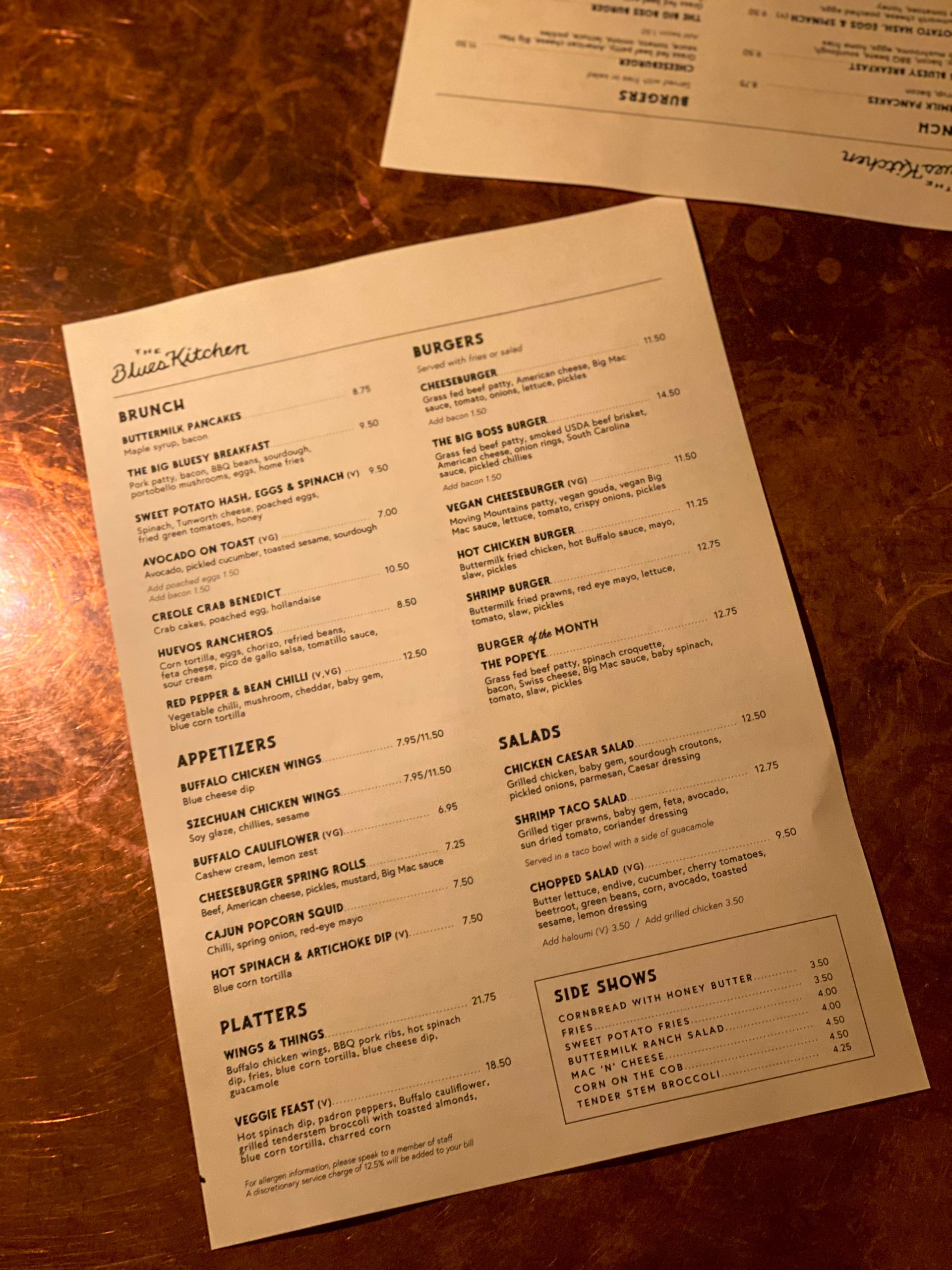 Everyone ordered a different main, because we knew we'd end up trying all of the dishes/
The food arrived incredibly quickly. First off, the classic Avocado Toast, which is one of their great vegan options. It comes with avocado, pickled cucumber, toasted sesame on sourdough. You can add poached eggs and/or bacon, and we opted for poached eggs.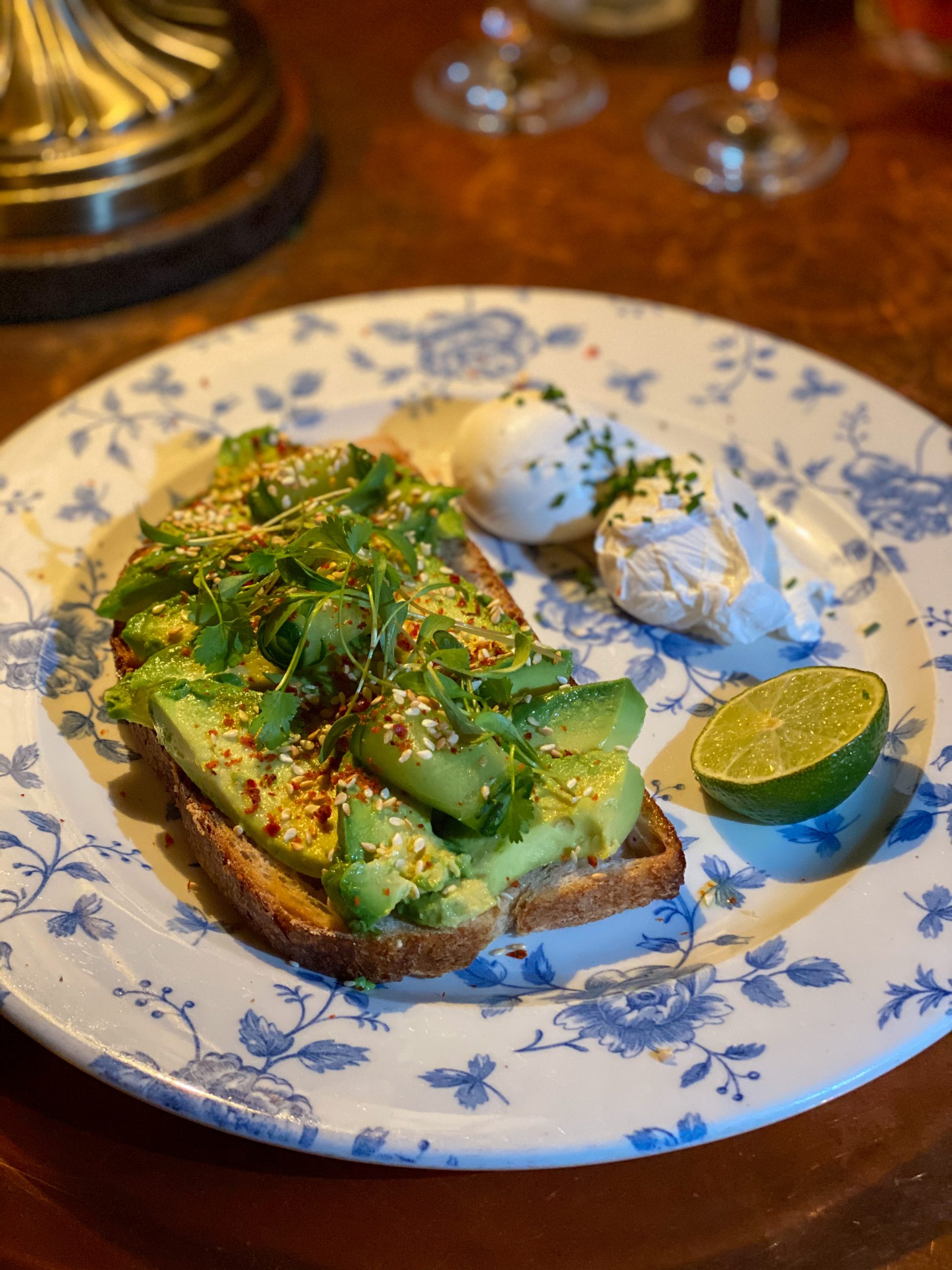 Next, the Creole Crab Benedict, which is a delightful and delicious twist on the classic Eggs Benny. Make sure someone in your group orders this, because it's worth at the very least a mouthful!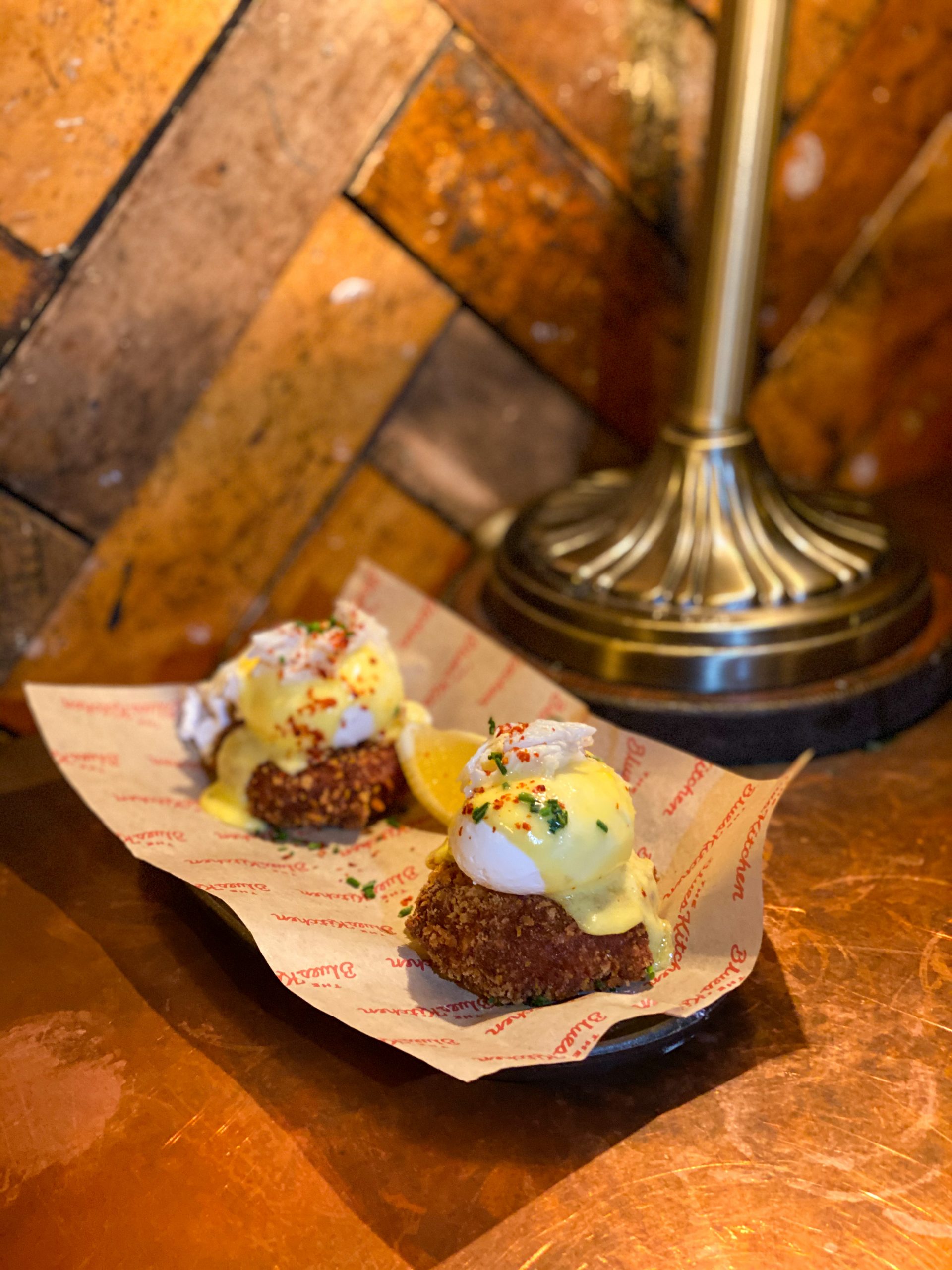 The Sweet Potato Hash, Eggs & Spinach was one of the most interesting items on the menu, and once we'd had a mouthful, we quickly declared it a must-order.
Spinach, Tunworth cheese, poached eggs, fried green tomatoes and honey.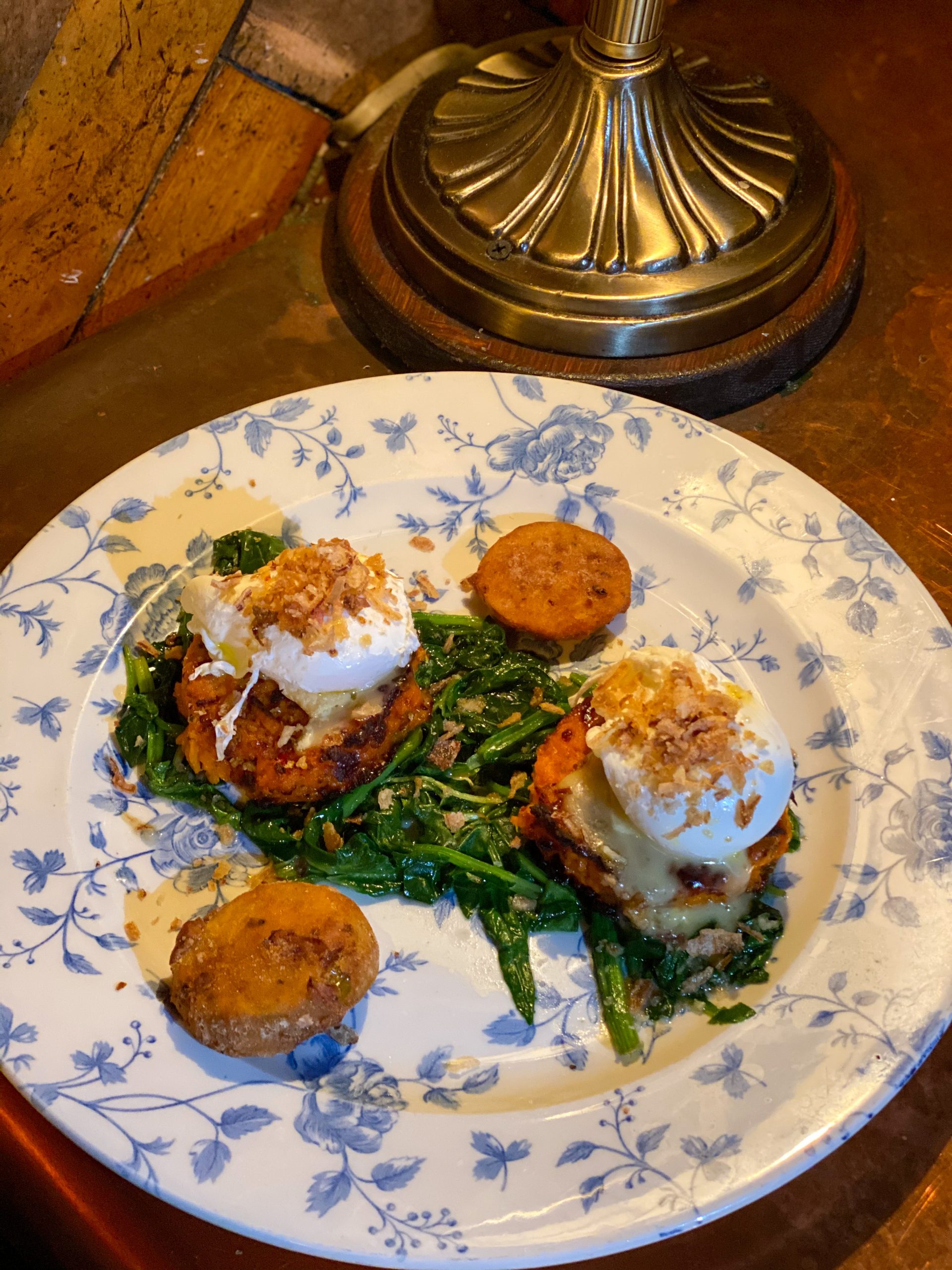 Then came the most lunch-y of the brunch dishes (although we're never opposed to a breakfast burger!). It was the Shrimp Burger – Buttermilk fried prawns, red eye mayo, lettuce, tomato, slaw and pickles.
We got the slaw and pickles on the side, which was a great tip from the staff there as the burger can be a little stacked and harder to eat. We also opted for fries over salad, obviously.
It's worth noting that on the menu, we also all eyed up the Shrimp Taco Salad, which we didn't end up going for because we wanted to indulge ourselves, but I think it'd definitely be something we'd order during our next visit.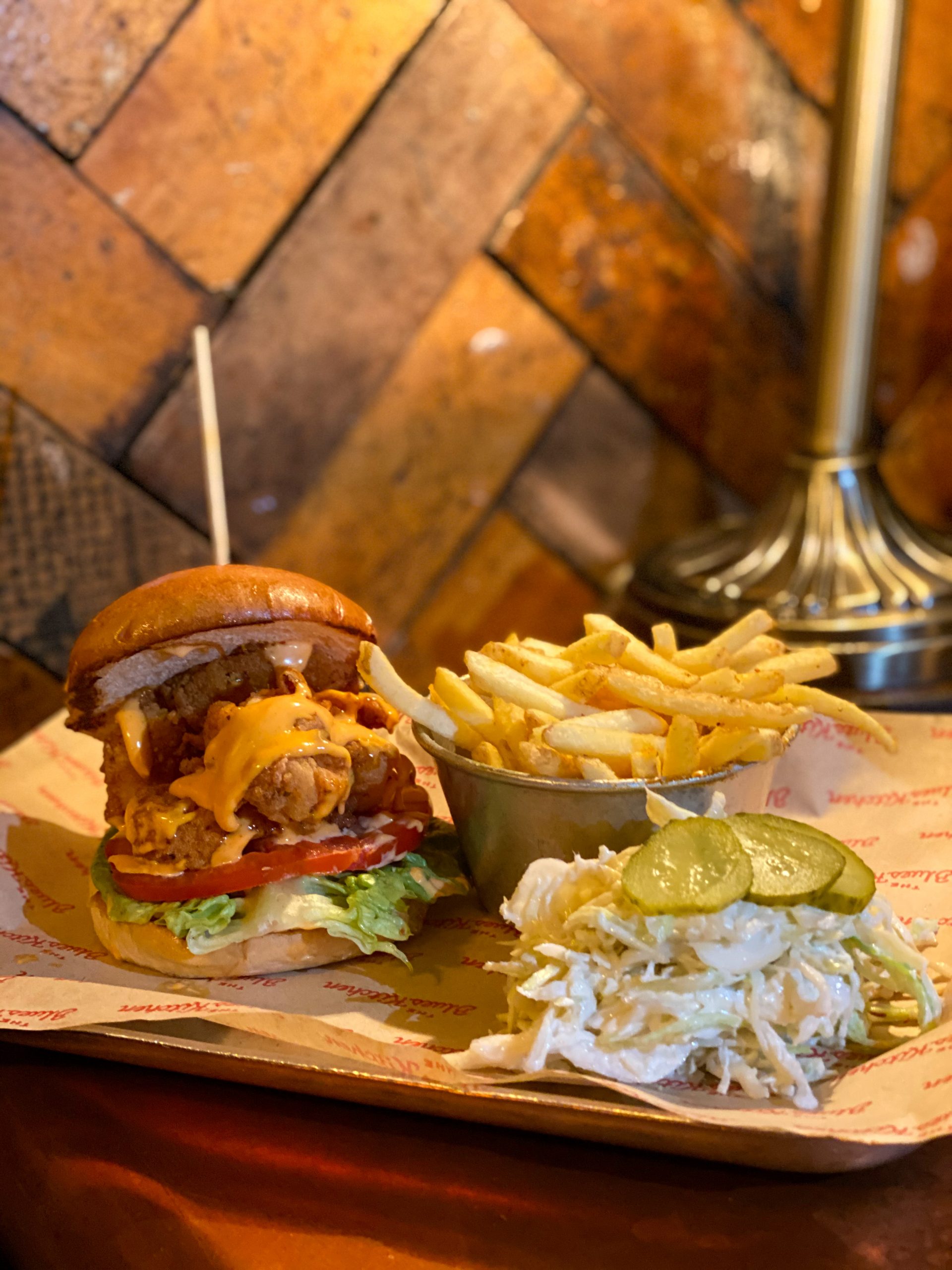 And to be extra extra, a plate of sharing Buttermilk Pancakes for the table.
On the menu, it says it comes with maple syrup and bacon. However, we were given the option for berries or bacon. We went for BOTH – It arrived beautifully with berries, banana and a dusting of icing sugar, and the bacon came on a separate plate.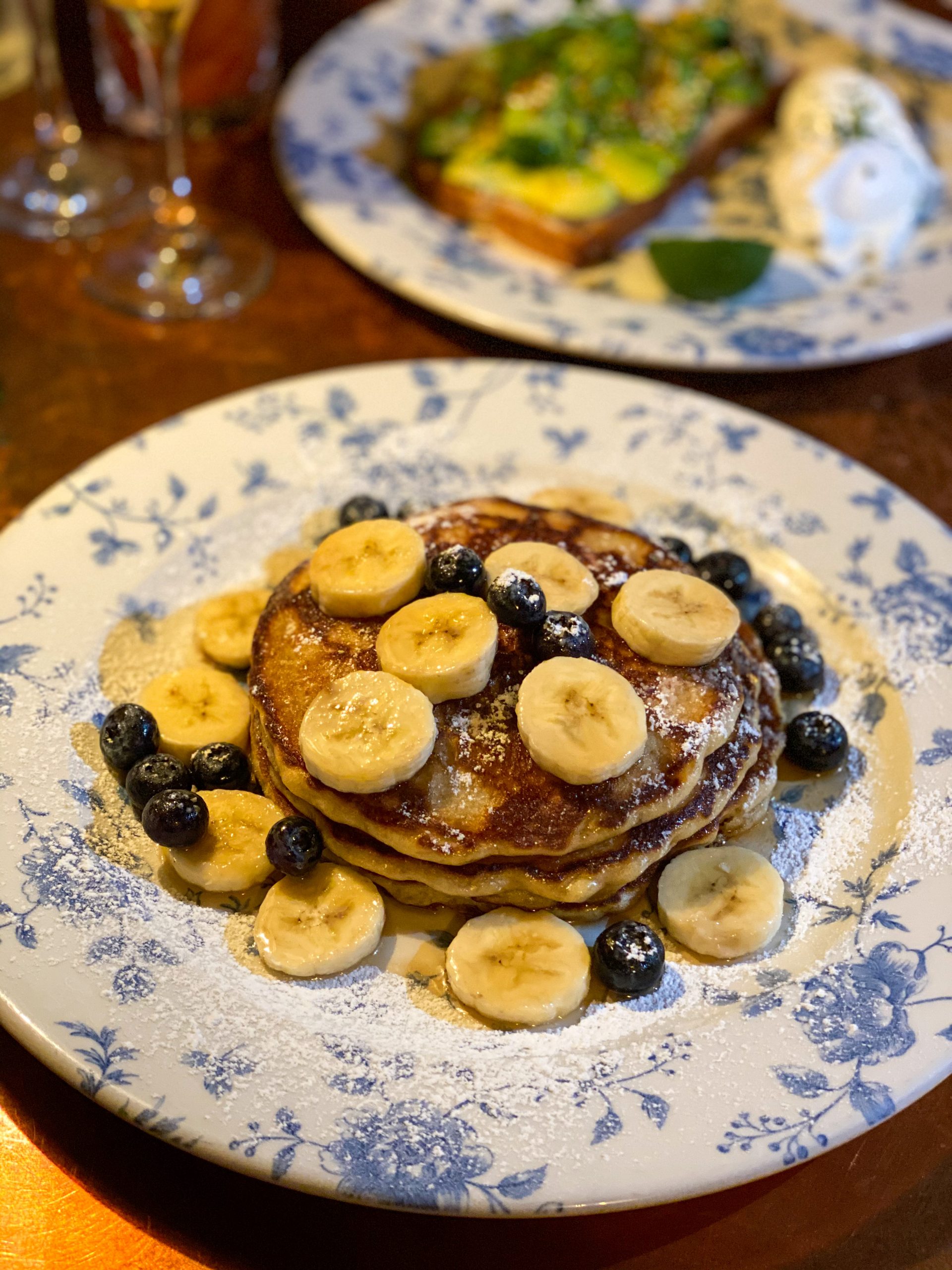 What else did we share, you ask? These next two are MUST ORDERS. MUST ORDER, YOU HEAR ME?
First, the Buffalo Cauliflower. It's an appetizer, but we treated it as a side. It's vegan and comes with cashew cream and lemon zest, and my god is it delicious. Perfectly battered, just the right amount of kick, and incredibly delicious.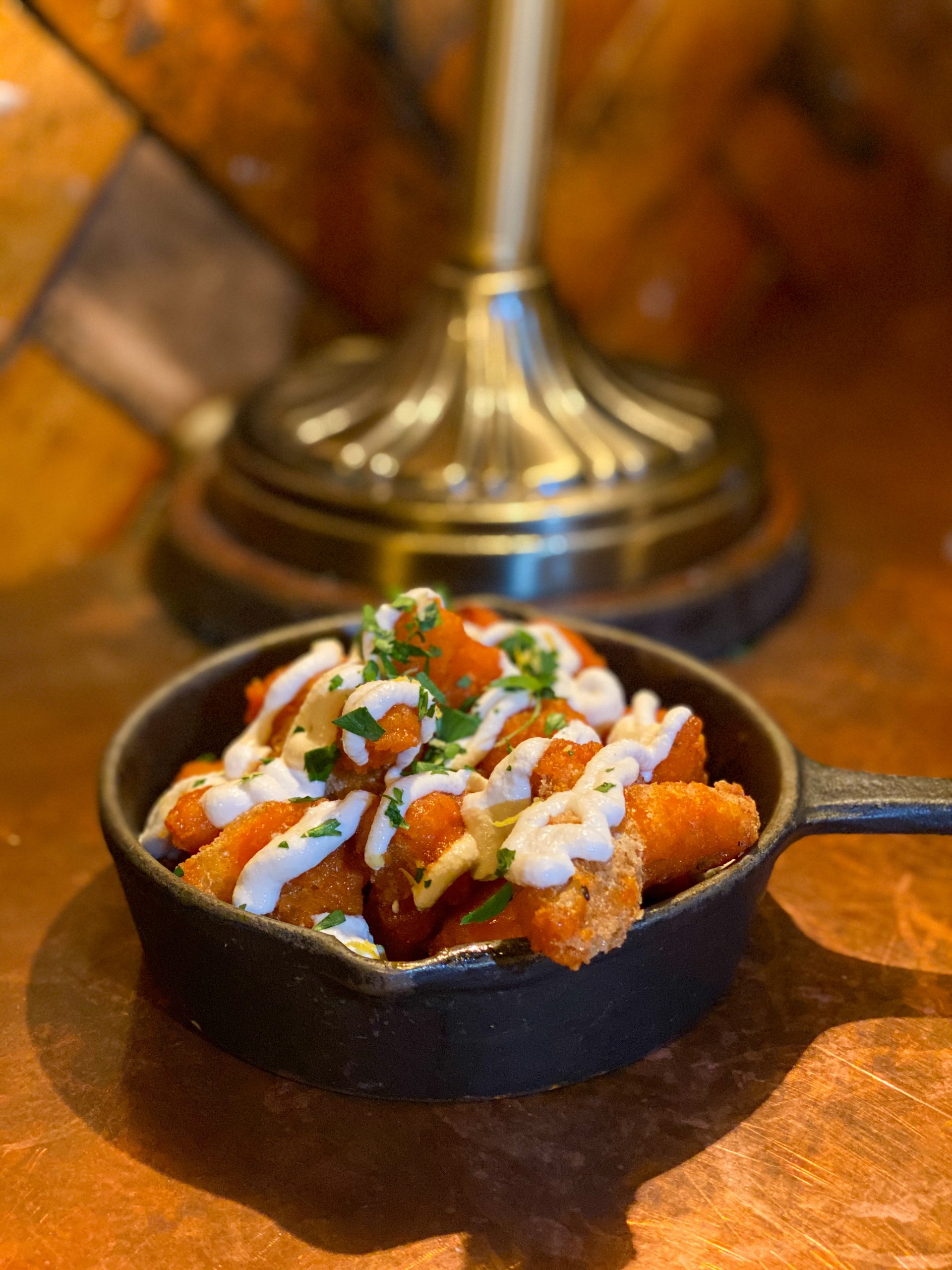 And you can't not order their famous Cornbread with Honey Butter. Even just typing the words makes me suddenly dream of floating on a giant cloud of it.
If you've already ordered a lot for the table, just get one and split it as it's a decent size – similar to the size of a muffin.
We were absolutely stuffed, and when the dessert menu came, we weeped at the thought of not ordering the Oreo Doughnuts (essentially deep fried Oreos). Just search The Blues Kitchen's location tag on Instagram to see mouth-watering pictures of these.
Everyone walked out ready to unbutton their trousers, but with big smiles on their faces.
A big shout out to the team at The Blues Kitchen Brixton – they were incredibly friendly and helpful, and never let our glasses get empty!