Oh, HELLO British heat wave! There's nothing worse than strolling in the sun to brunch, only to be stuck inside a stuffy shaded room for hours of Bloody Mary drinking. The way to enjoy your smashed avo on toast is outside with your sunglasses on, wondering whether or not you're tanned/burning yet. We've hunted through London and sussed out the best spots for breakfast and brunch where you can kick back in the summer sunshine.
You know what they say: Sun's out, bacon buns out.
Counter Cafe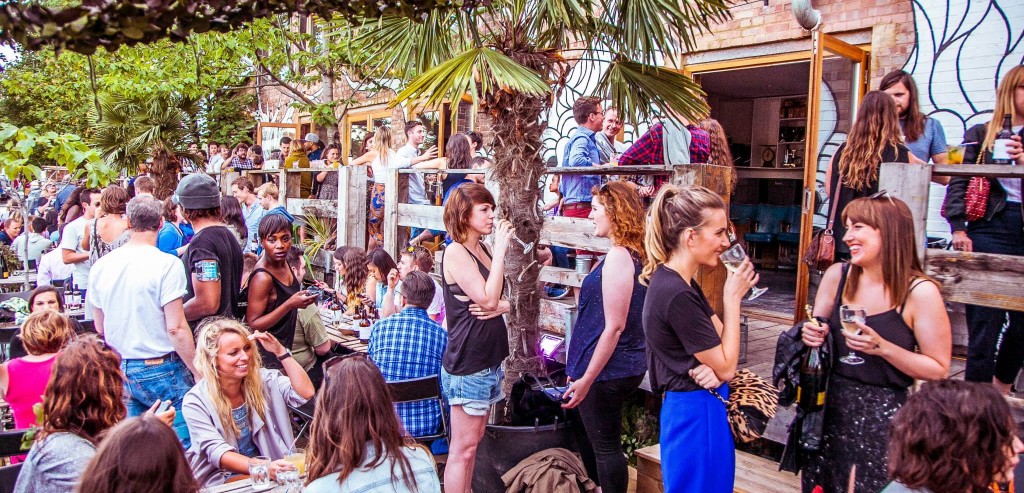 Dalstonist
Located just 100 meters from the Olympic Park in Hackney Wick, the canal-side cafe and coffee roaster gives you some pretty sweet views of the park, with indoor seating and a large outdoor terrace on the River Lee. Add some quality coffee and fresh breakfast (and pies, oh the pies), and it sounds like the perfect start of the day to us.
Vintage Salt
Waterfront Magazines
How did you end up in a beach shack for breakfast? Oh wait, you're on the rooftop of Selfridges. Silly you. They've taken up the beachy twist and nautical stripes for their theme this year, from the beach-shack decor to the uniforms of the servers/sailors. Not only is it the perfect place to lay out in the summer sun and neck a few cocktails, but they also have boozy popsicles. I repeat: Boozy popsicles.
The Lido Cafe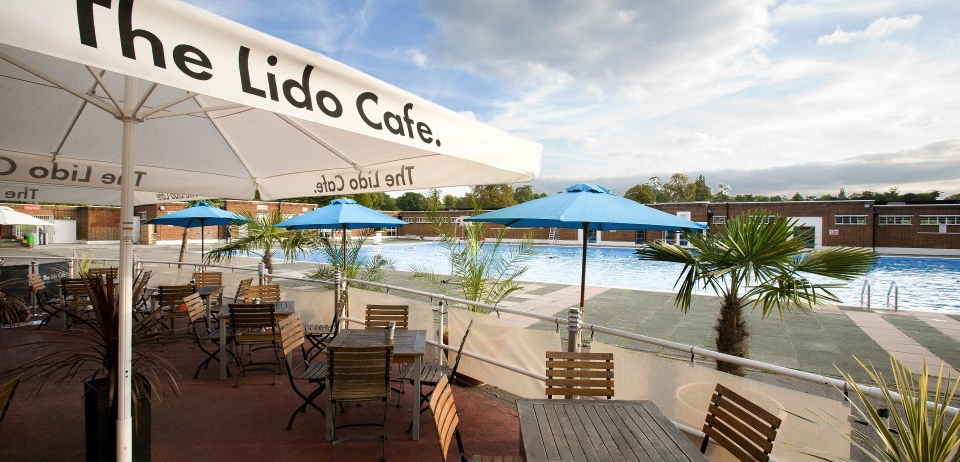 The Lido Cafe
Opened up by two bros with a dream of running a restaurant, they found a perfect spot – the disused café next to Brockwell Lido. Today, this modern British/European restaurant is situated by one of the last remaining Art Deco Lido's in London. With a focus on seasonality and provenance, and offering their much-loved Eggs Three Ways, it's a sure summer winner.
The SummerHouse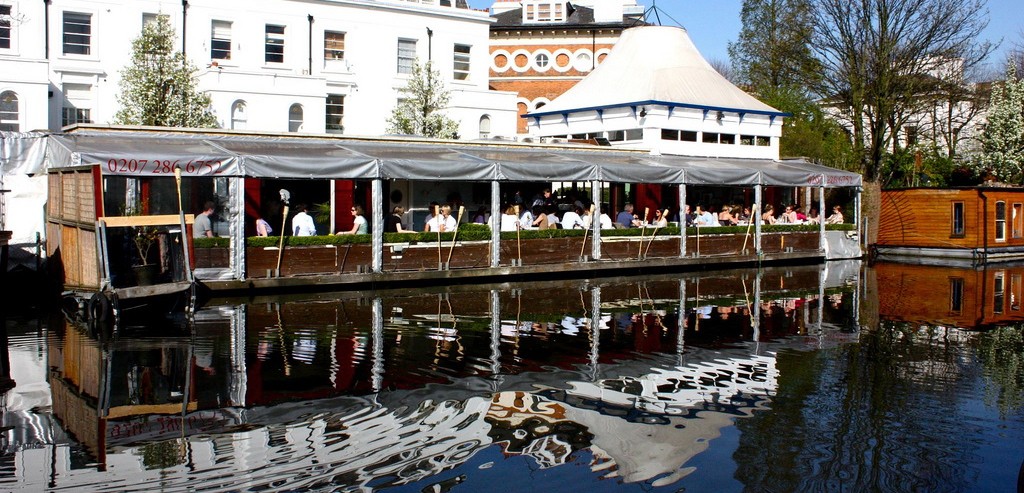 Johanna Loock – Flickr
You're officially invited to a delightful little brunch at a summerhouse. Wait, no, sorry, you're invited to to THE Summerhouse, and when we say 'invited', we mean to make a booking. But we highly recommend to do so, because it's one of the best brunch spots in London this summer. This restaurant by the canal in Little Venice has nailed their nautical decor, with natural light streaming in from all angles. Their brunch menu doesn't fall short of amazing, either.
Dishoom Shoreditch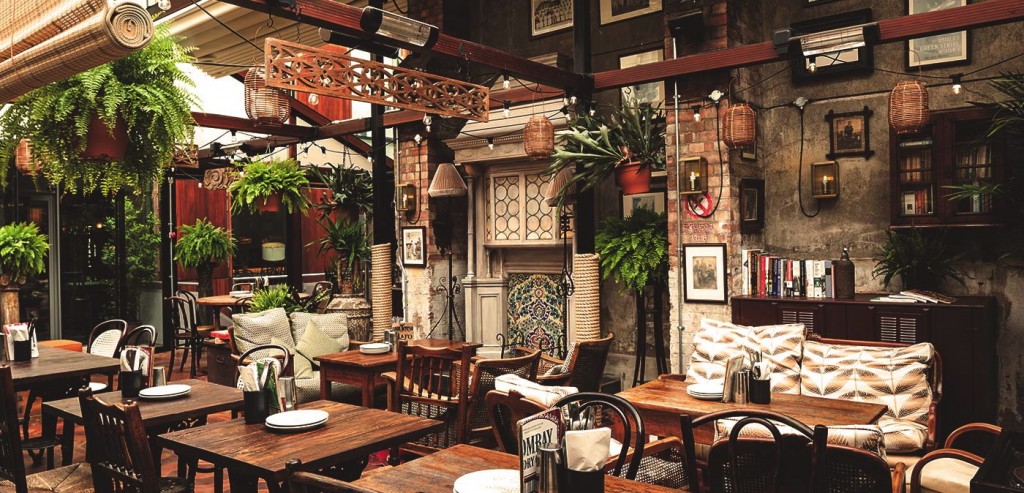 Dishoom
With vintage hanging lamps and fans, as well as old Indian newspaper, photographs and magazine clippings decorating the walls, you'll feel like you've just stepped into one of Bombay's post-colonial Irani Cafes. Not only that, but Dishoom's Shoreditch brand has a veranah that will transport you to a different era. Whether it's accompanied by a House Chai or a Chaijito cocktail, you'll be hi-fiving yourself at the best decision you'll make all day.
The Barge House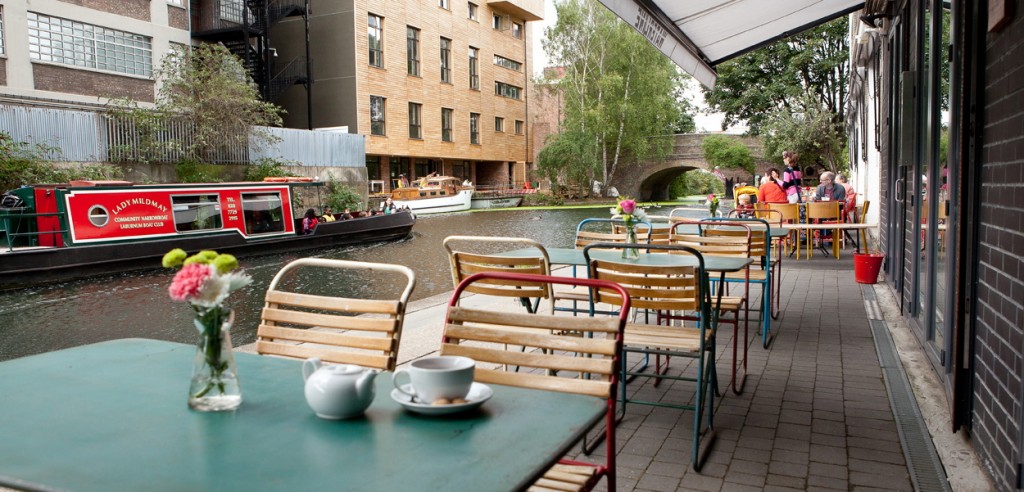 Barge House
There's not a lot we love more than kicking back on a cafe on the Regents Canal for some brekkie. Barge House is one of Haggerston's fresh faces, and have quickly risen up in the ranks to become one of our new favourites. It wasn't hard, since we can enjoy the view with their famous 'Breakfast in Bread' dish (a Full English brekkie in a loaf of bread) and a house-infused Bloody Mary in hand: Cucumber, Rosemary or Chilli.
M1lk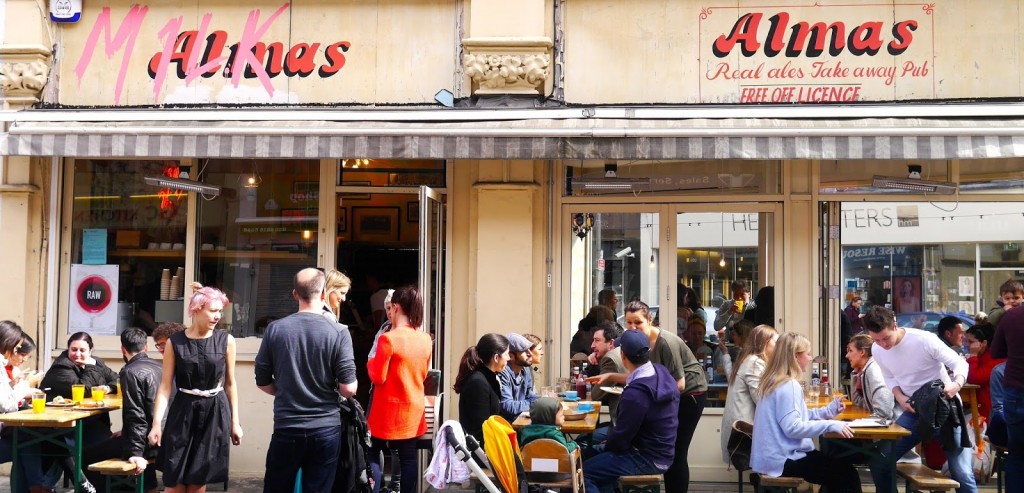 Pretty Hungry
With awesome recently renovated interior, laid-back service and, most importantly, a great outdoor seating area, M1lk is a perfect summer spot. And their menu? Every single item on it is smashing. I mean, burnt butter hollandaise? It's like a dream. Their new sister restaurant right around the corner, Field's Cafe, is also worth the trip on a sunny day.
Source Battersea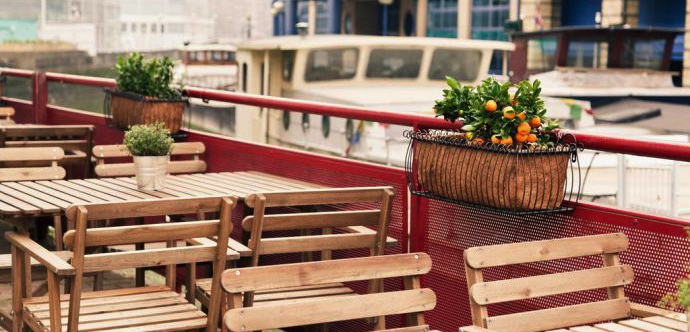 Six Out Of Ten
Where better to carb up than a place with a dedicated 'Carb' section in their menu? Where better to have a boozy brunch than somewhere that offers a jug of Breakfast Punch? And where better to spend your morning than looking out over the river? That's right, Source ticks all the boxes. Tick, tick, tick. It's just a shame they're not open for breakfast during the week!
Serpentine Bar & Kitchen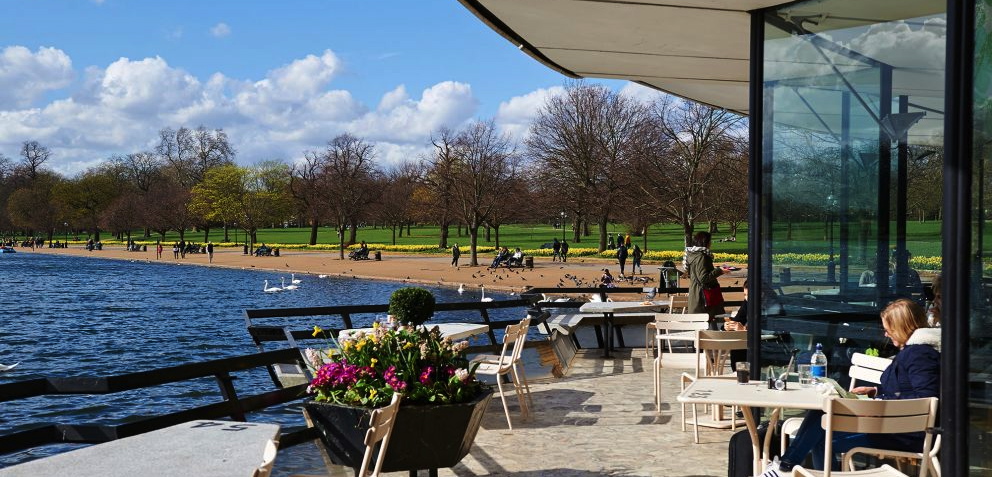 Royal Parks
Have you ever been on a run when all you're thinking about is food? Yeah, us too. Good thing Serpentine Bar & Kitchen is located in Hyde Park for you to stop off at, or in our case, to run towards. Sat on the edge of the gorgeous Serpentine Lake, you can get your morning coffee and brekkie whilst looking out at the gorgeous view and breathing in some fresh air, or even grab a smoothie and croissant to-go in their shop at the front.
The Ivy Chelsea Garden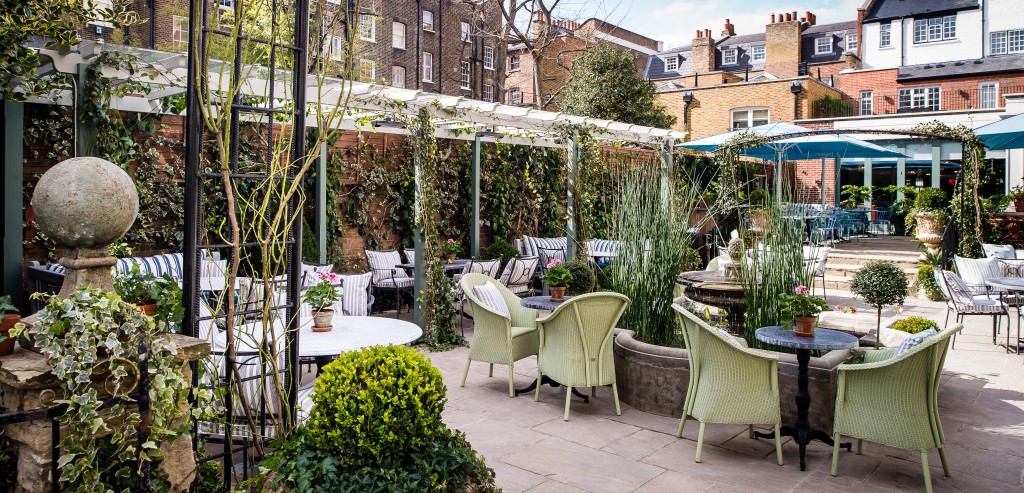 The Ivy Chelsea Garden
There aren't many places in London currently hotter than The Ivy Chelsea Garden. We mean that both literally and figuratively, since you can bask in the summer heat outside in their big, gorgeous garden. But there's also the fact that it's one of the most sought-after places to be and be seen in London right now, which naturally makes it fantastic for people watching. Prepare to feel instantly fabulous.
J+A Cafe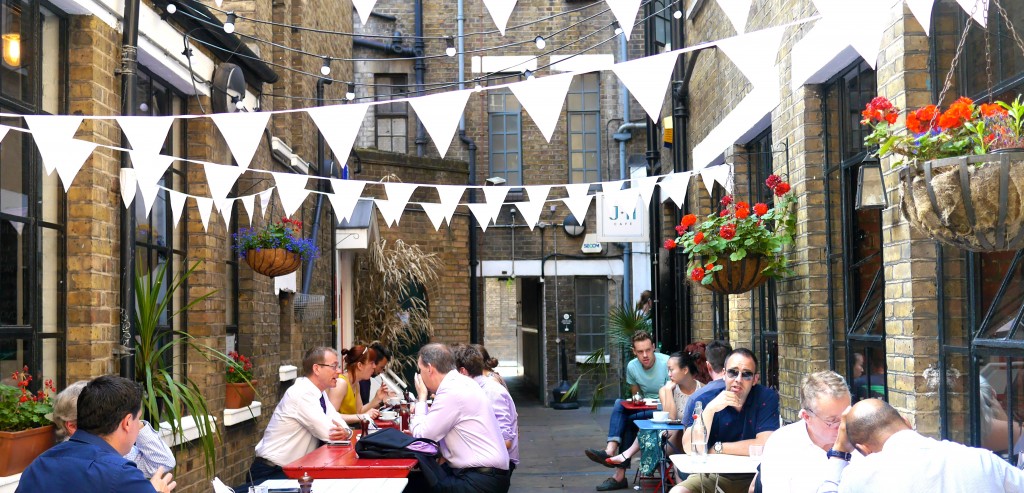 Bianca Bridges
Where should you sit when popping round to J+A Cafe? The ground floor of an old diamond-cutting factory, the space is lovely. Inside is cosy and adorable, as a cafe should be, but outside is equally as appealing, with the sun shining down on the benched courtyard. These guys do healthy, wholesome cooking and baking with old-fashioned hospitality at it's finest.
Beagle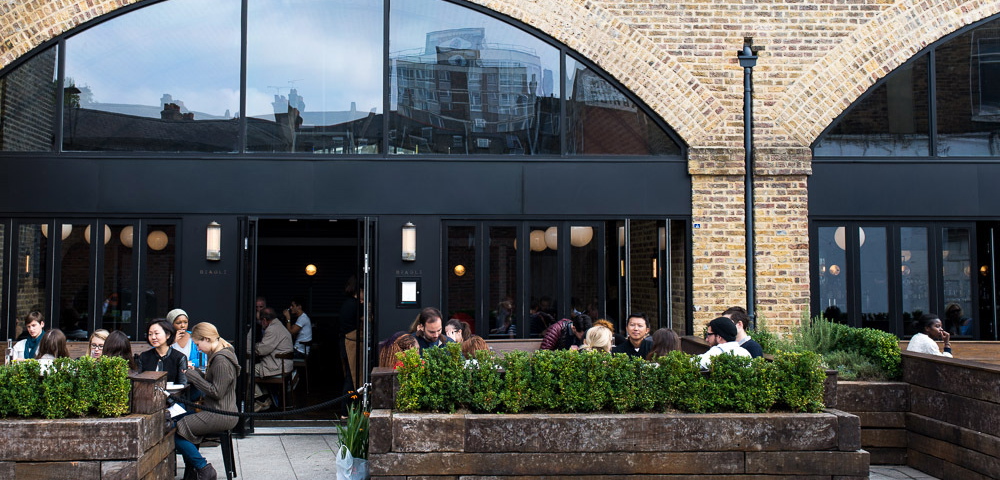 Mondo Mulia
The triple threat restaurant/bar/coffee shop is tucked within three beautiful victorian railway arches, with a great outdoor area for you to soak up some rays on a glorious sunny day. It's one of the best places to chow down on some glorious bacon, which they make and smoke themselves FYI.
Fields Bar & Kitchen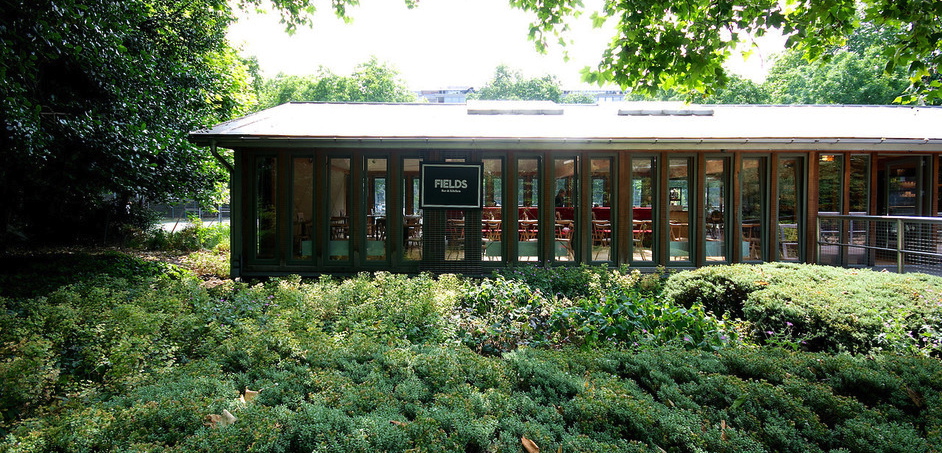 London Town
Nestled in the heart of Lincoln's Inn Fields, you'll find Fields Bar & Kitchen, one of Benugo's shining stars. These guys have not only one, but two outdoor terraces to kick back on, where you can be at one with nature. If you don't feel like the fresh air, then staying indoors will provide you with the same outdoor sensation too, with their wooden interior, natural light and the fact that they're surrounded by the greenery outside.
Pavilion Cafe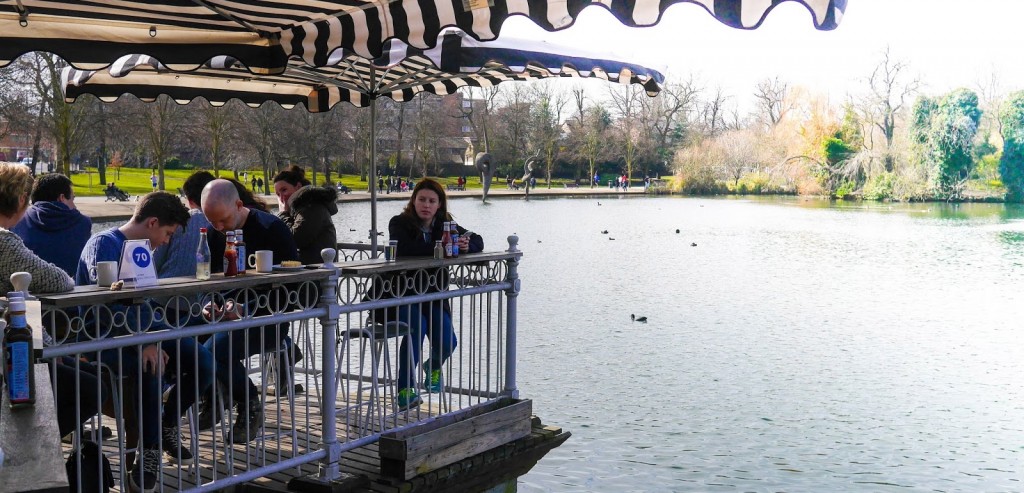 PrettyHungry
Pavilion Cafe is so much more than just a park cafe. It's a breakfast gem, and a perfectly great reason to stroll to Victoria Park in itself (if you even needed one). Located within the most beautiful surroundings, it's the perfect sunny day destination. It boasts a chilled, relaxed weekend vibe, but every day of the week. Where better to eat your pancakes than in that special spot, looking over the gorgeous lake view?
Chiltern Firehouse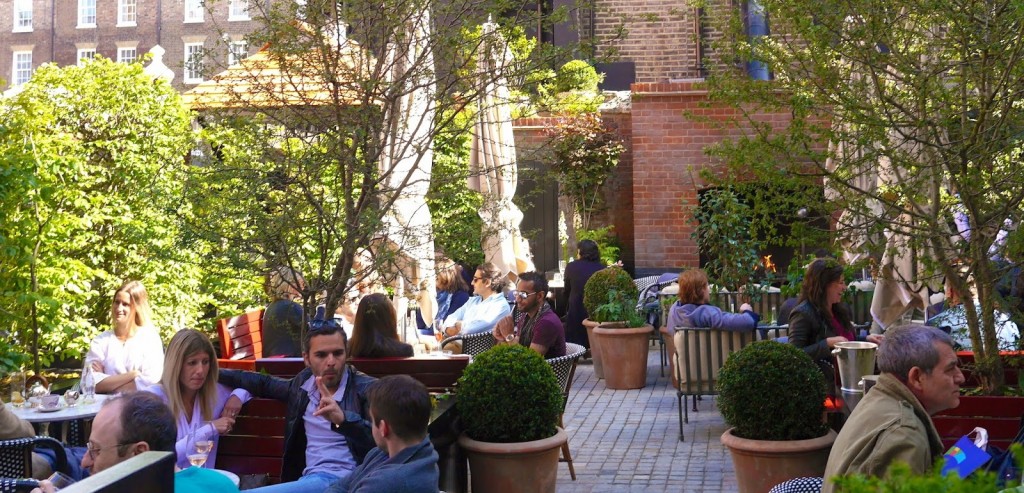 PrettyHungry
The Chiltern Firehouse is a bit like the Regina George of the brunch world. It's exclusive enough that if you're not a name around town, you're going to have to book in advance, and you're going to have to suck it up if they give you a bar seat after all that time. Because, well, you're still in the Chiltern Firehouse, the ex-firehouse turned hotel. And if it's sunny? Head to a table in the courtyard, no question about it.
Notable mentions go to Towpath Cafe, No32 The Old Town and Coq d'Argent (we can't write about them all, hey?)