Anyone who has visited Australia can't deny that their brunch scene is on a whole new level, and so it's no surprise that the majority of my favourite brunch spots in London are Antipodean.
I first visited Daisy Green years ago upon first moving to London, and immediately fell in love with their awesome coffee and 'award-winning' banana bread. Since then, it's been incredible to watch the collection grow, and they're now serving up Aussie brunch all over London, with an incredible ten sites in total. From the hugely spacious Timmy Green in the gorgeous Nova complex (Victoria) to floating canal boats on the Grand Union Canal (Darcie & May Green), wherever you go you're guaranteed delicious, colourful breakfast dishes… plus bottomless brunch options too! Their most recent opening, Ziggy Green, is just off Regent Street – the perfect place to escape tourist madness!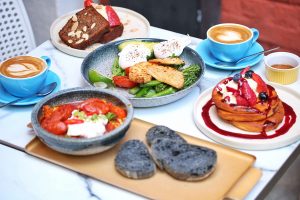 Of course they have the classics like avocado toast and Eggs Royale, but the rest of their menu is where they really shine. They take the basic bacon roll to a whole new level, served with eggs, crispy onions and hot hollandaise in a wonderfully flaky paratha roti.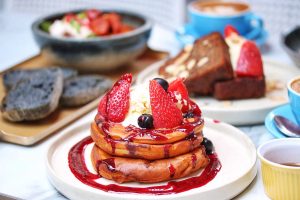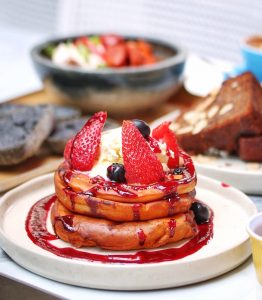 I personally love their sweetcorn fritters; they may not be the most aesthetic of dishes but they're absolutely delicious! No brunch is complete without dessert, and their award-winning banana bread sandwich is not one to be missed! Layered up with Greek yogurt, fresh berries, coconut and flaked almonds, it's absolutely delicious, but honestly, for me it's the buttermilk blueberry pancakes that I can never resist. Thick and fluffy, they're served with fresh berries, wonderfully sweet vanilla mascarpone and maple syrup, and they're absolutely divine! There used to be a pretty epic coconut bread French toast too.. I haven't seen it the last few times I've been, but I'm hoping they'll bring it back soon!
Ziggy Green, 1 Heddon St, Mayfair, London W1B 4BD