It was a wonderful morning – the sun was out and I had successfully walked out of Selfridges empty-handed which meant I had enough self-control to NOT buy anything I didn't need. My bank account was safe and all I needed to complete my day at that point in time was a good (and big) dose of brunch.
And yes that was my short and unnecessary introduction to how I found myself at Popina where I had a fabulous time over-eating and filling up my belly with happiness.
Walking into the cafe, I was greeted by a lovely staff who welcomed me and allowed me to take my time settling in. It wasn't a large space so I could imagine it getting difficult to find a seat on a busy day. Thankfully the BRUNCH GODS were in my favour because I managed to nab a seat right outside where the glorious lighting was perfect. It was a rather quiet street with barely any tourists passing by which was another plus point.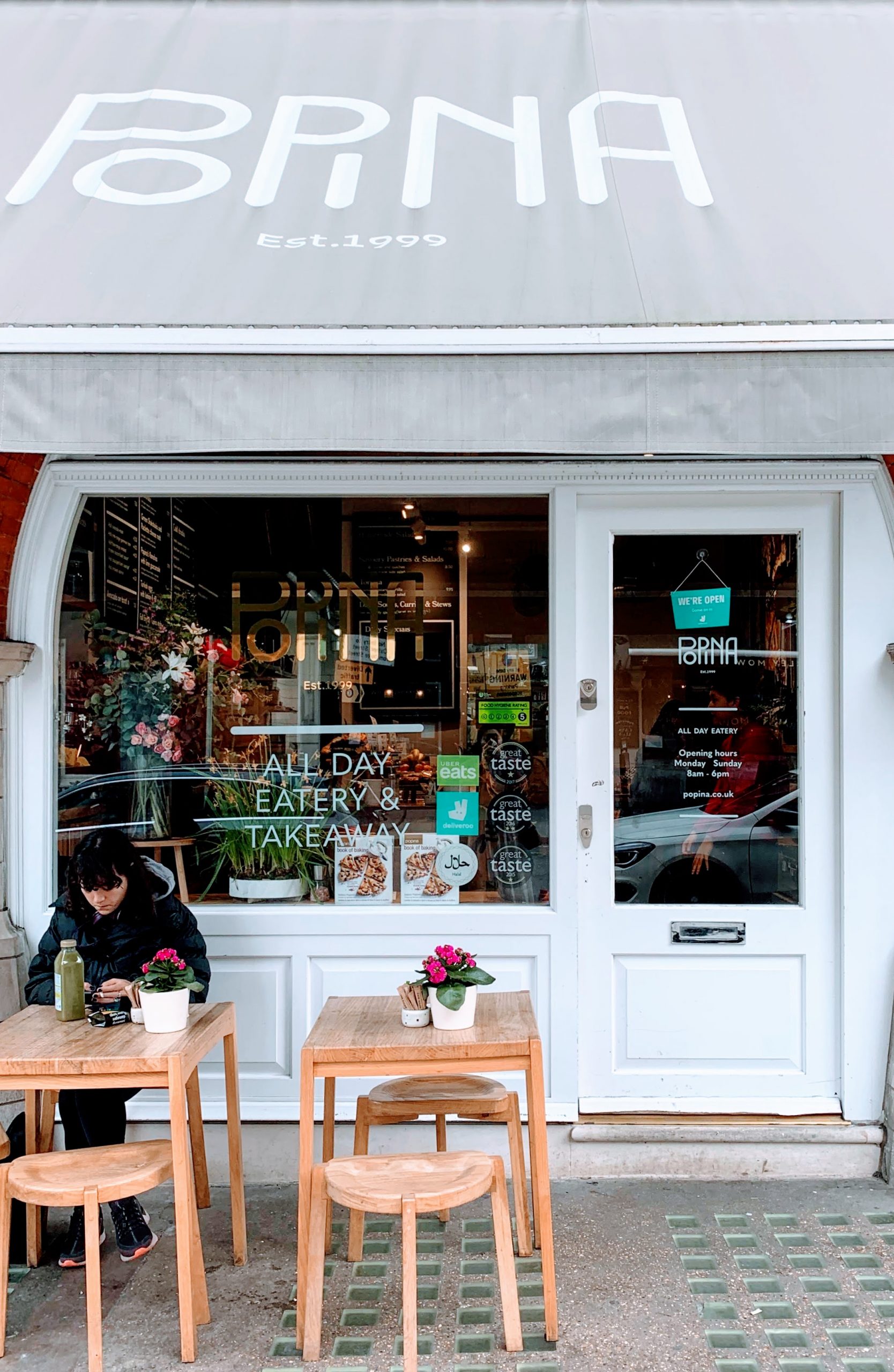 There was an array of delicious looking pastries displayed on the counter but my eyes were automatically fixated on their main brunch menu.
Some recommendations from the staff included their highly popular Green Shakshuka and Raclette cheese melt although I was told that this was more on the decadent side despite the word Green. After a quick feel at how tight my jeans already were, I decided I would go for the healthier version – a standard Shakshuka.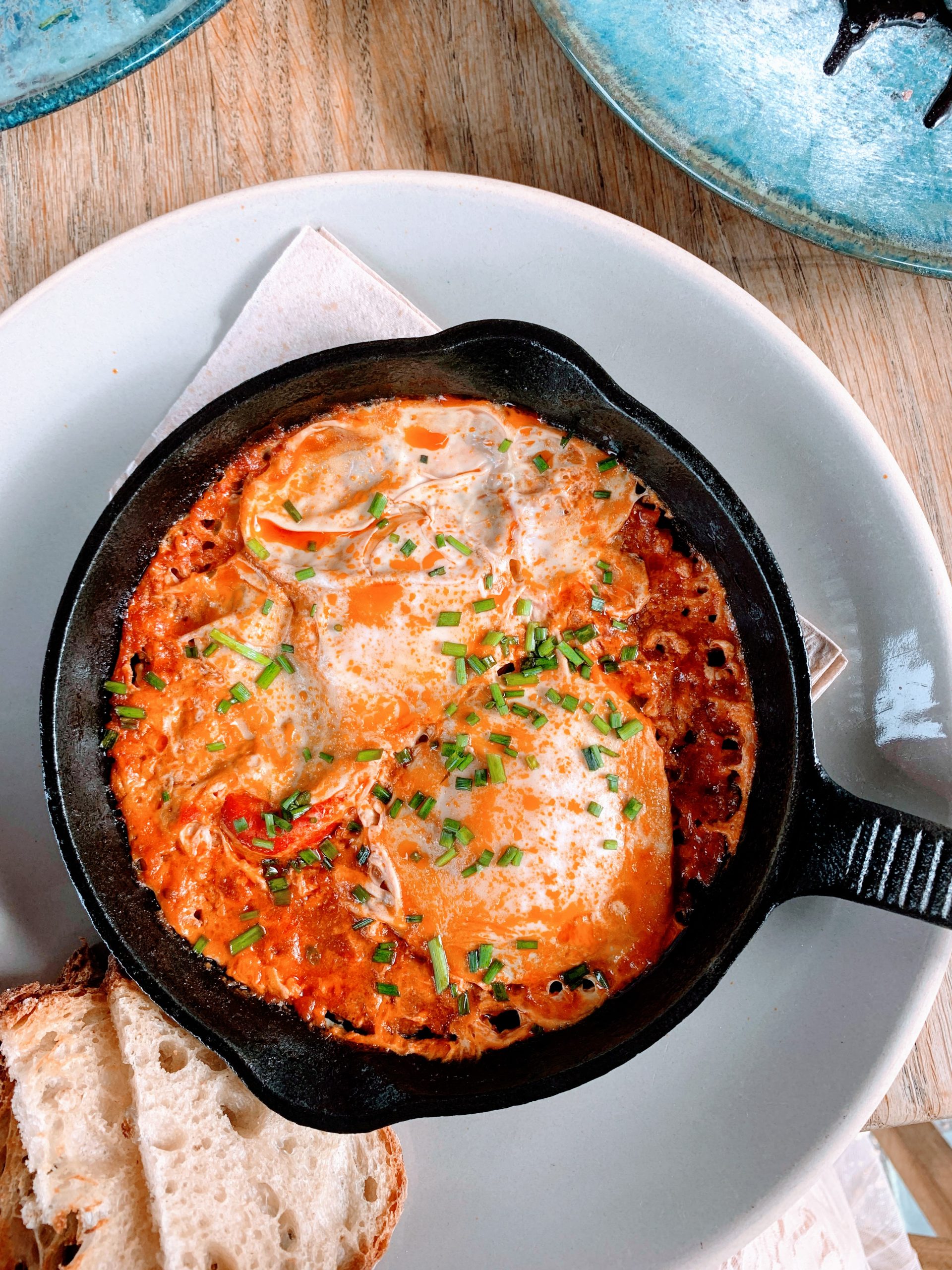 At £12.50, this was nice. Eggs, tomato, spices and a nice piece of fresh sourdough bread. I was getting the nutrients in and that was enough to satisfy me.
Another dish was also the "Popina's Ranchos" which consisted of fried eggs on either sourdough or blue corn tortilla, chipotle- spiced tomato and black bean sauce. This too was nice although in retrospect I would have opted for sourdough rather than the blue corn tortilla as the tortilla was soggy from all the sauce by the time I dug in. This too made me feel clean and nutrified!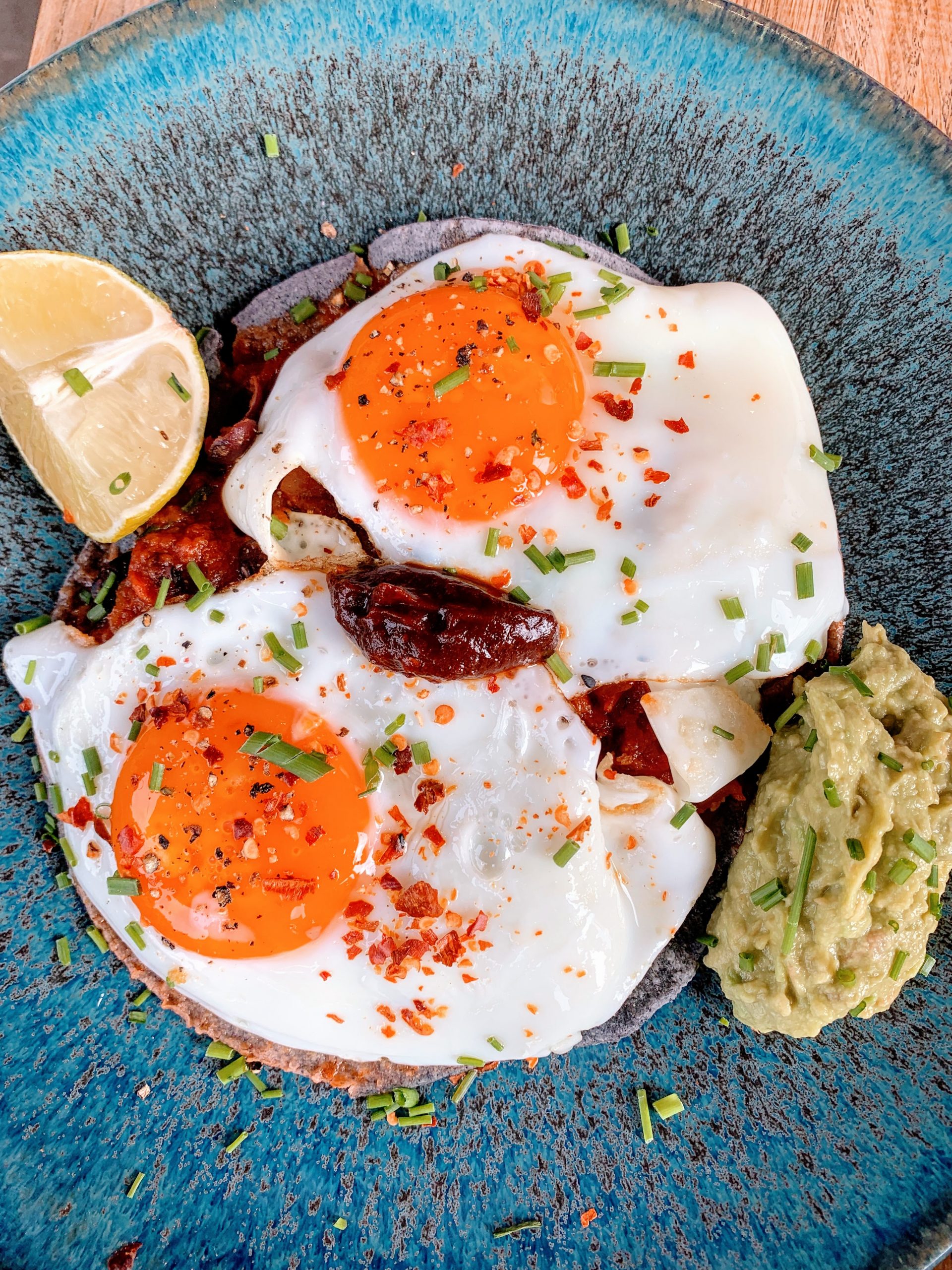 But that was as far as my healthy eating plan went. Knowing that my soul would never rest without a dose (or in this case A BIG DOSE) of sugar, I was forward-looking enough to order a Nutella french toast as well.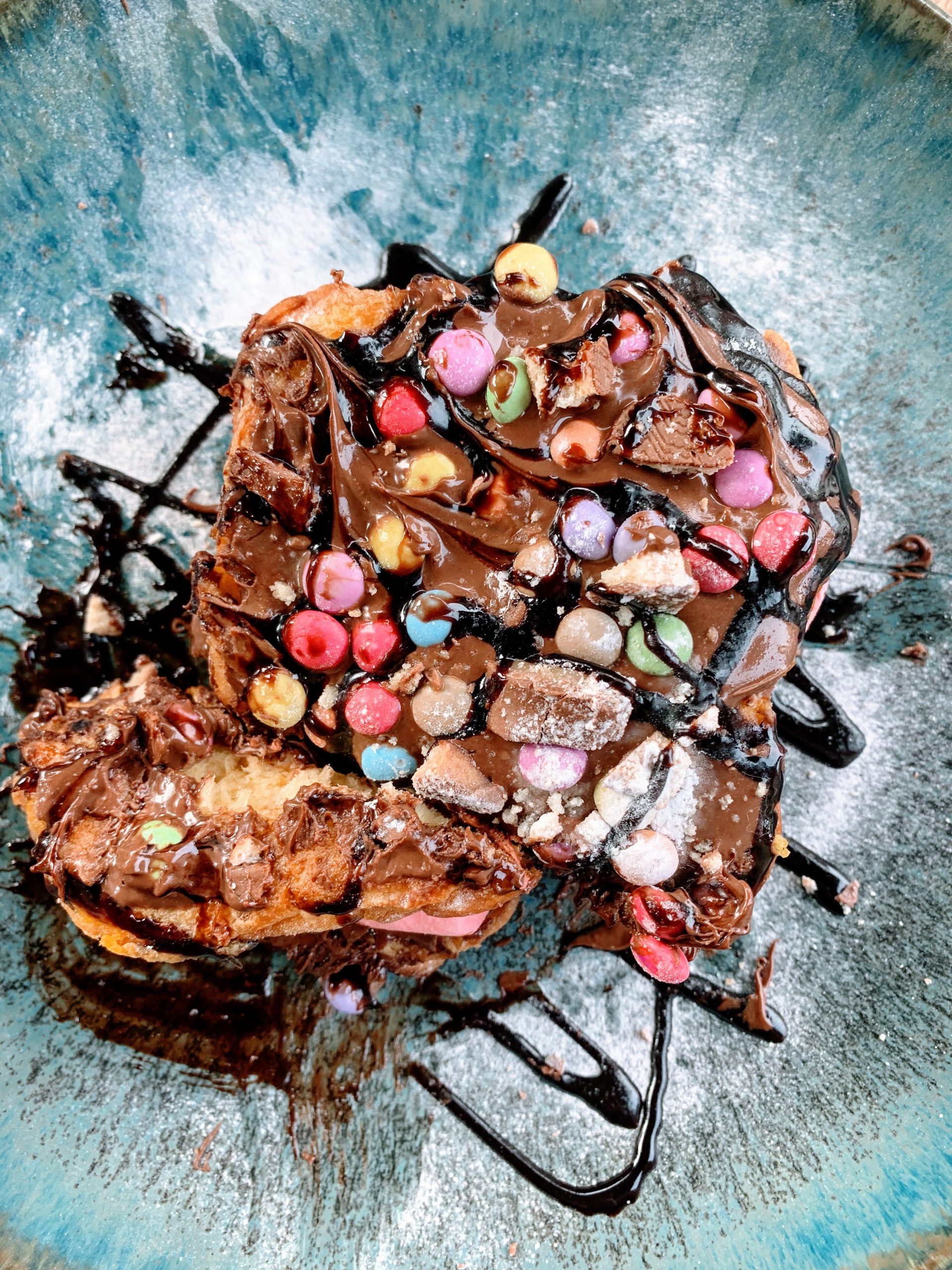 And that french toast came looking like this – gorgeous and practically smothered with a large dollop of Nutella. And as if Nutella wasn't already a treat, the french toast was glued together with melted marshmallow to add an extra level of sweetness!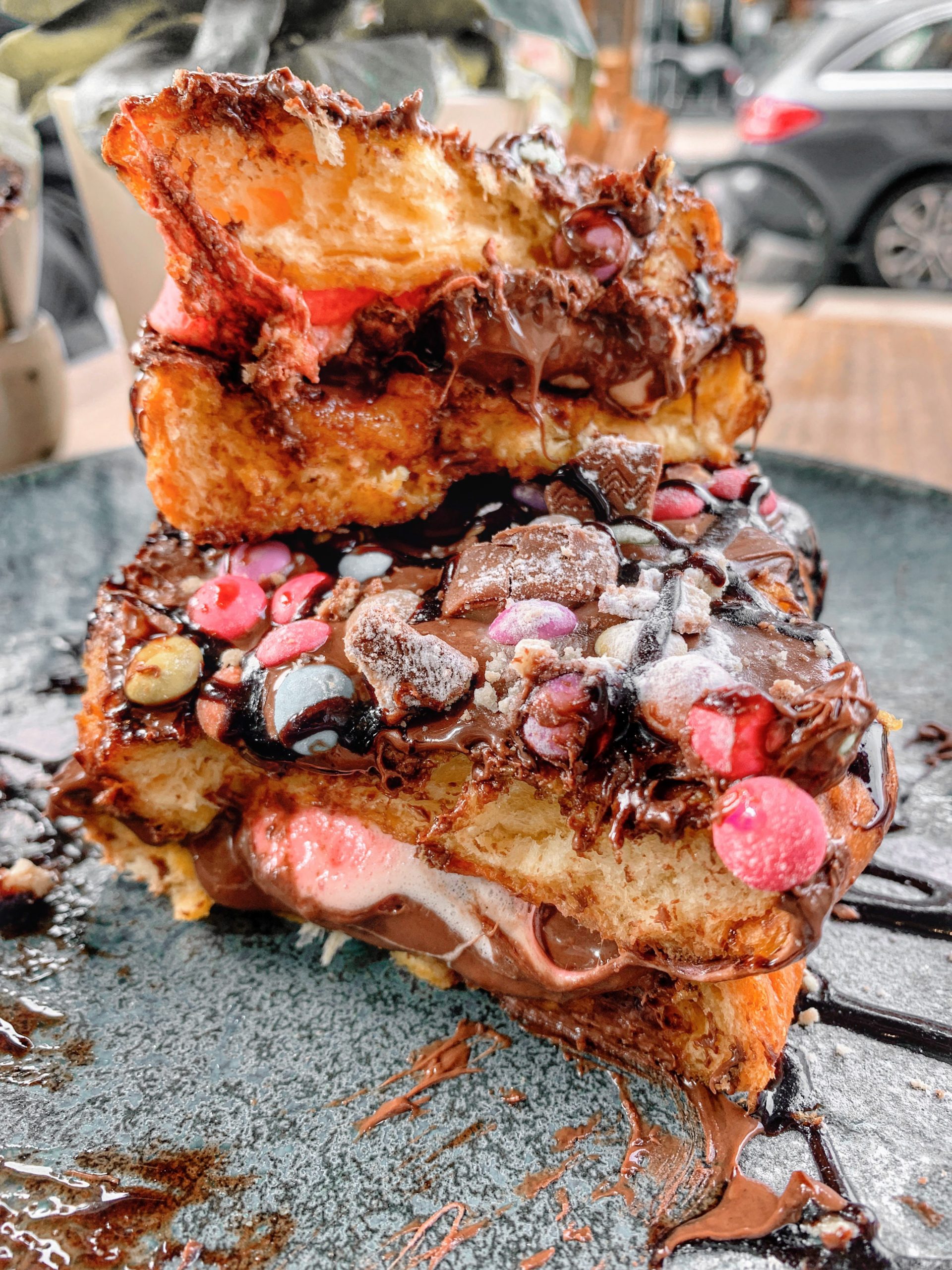 Personally, this was my favorite dish. It is 100% my sweet tooth speaking and I wouldn't recommend it for the faint-hearted. BUT if you are like me with a highly unhealthy sugar tolerance, I reckon you would enjoy this french toast too. It's not quite the best french toast in London or anything but it is still worth the order, for £8.5.
Overall, brunch at Popina was a nice treat. It didn't necessarily have any stand out dishes but it was definitely a satisfying experience nevertheless.
Thinking back, I feel silly that I didn't opt for their pastries – this is what Popina is originally known for, having traded in food markets across London for multiple years before evolving into a café. Thankfully, I know I will be coming back, considering how it is only a few minutes walk from Oxford Street. Knowing me and knowing how I love to aimlessly walk around Selfridges, I am sure I will have the chance to pop by again and try their cakes and pastries.
In a nutshell. if you are ever around Oxford Street looking for a place to dine which is near but away from the tourists, Popinas is one to consider.
P/S. If you are reading this during the lockdown season, Popina is available on UberEats and Deliveroo for order if you would like to check it out. 
ADDRESS : 83 Duke St, Mayfair, London W1K 5PF