I've always found it difficult to find a decent breakfast or brunch place around the Rotherhithe area (aka where I live). So when I found out that there was an Australian inspired café nearby, I knew I had to check it out. This ultimately landed me at Pear Tree Café, which at first seemed like a deli shop but upon further discovery, turned out to be a real gem. 
Entering the café, I was greeted by a display of artisan bread, pastries and cakes at the counter where a line of customers stood, queuing to make a quick grab-and-go order. At the same time, there was a separate line of eager brunchers waiting for the next available table at the sit-down area at the opposite end of the café.
It was a vibrant atmosphere with customers going in and out, mostly those who were just there to take away pastries. There were some cool additional features to the café, like the selection of oils and preserves available for purchase and Australian snacks (hello, TimTams!) to name a few.
The menu was extensive, boasting a large selection of the usual breakfast choices, alongside some Asian options including Nasi Goreng, Thai Green Curry and Korean Fried Chicken. The Asian dishes were admittedly not the usual offerings I would expect from an Australian inspired café so I decided I would steer away from that (for this visit at least). After battling between French toast or a good old Benedict, I opted for the latter and within 10 minutes, it arrived.
Presenting the Pulled Pork Benedict!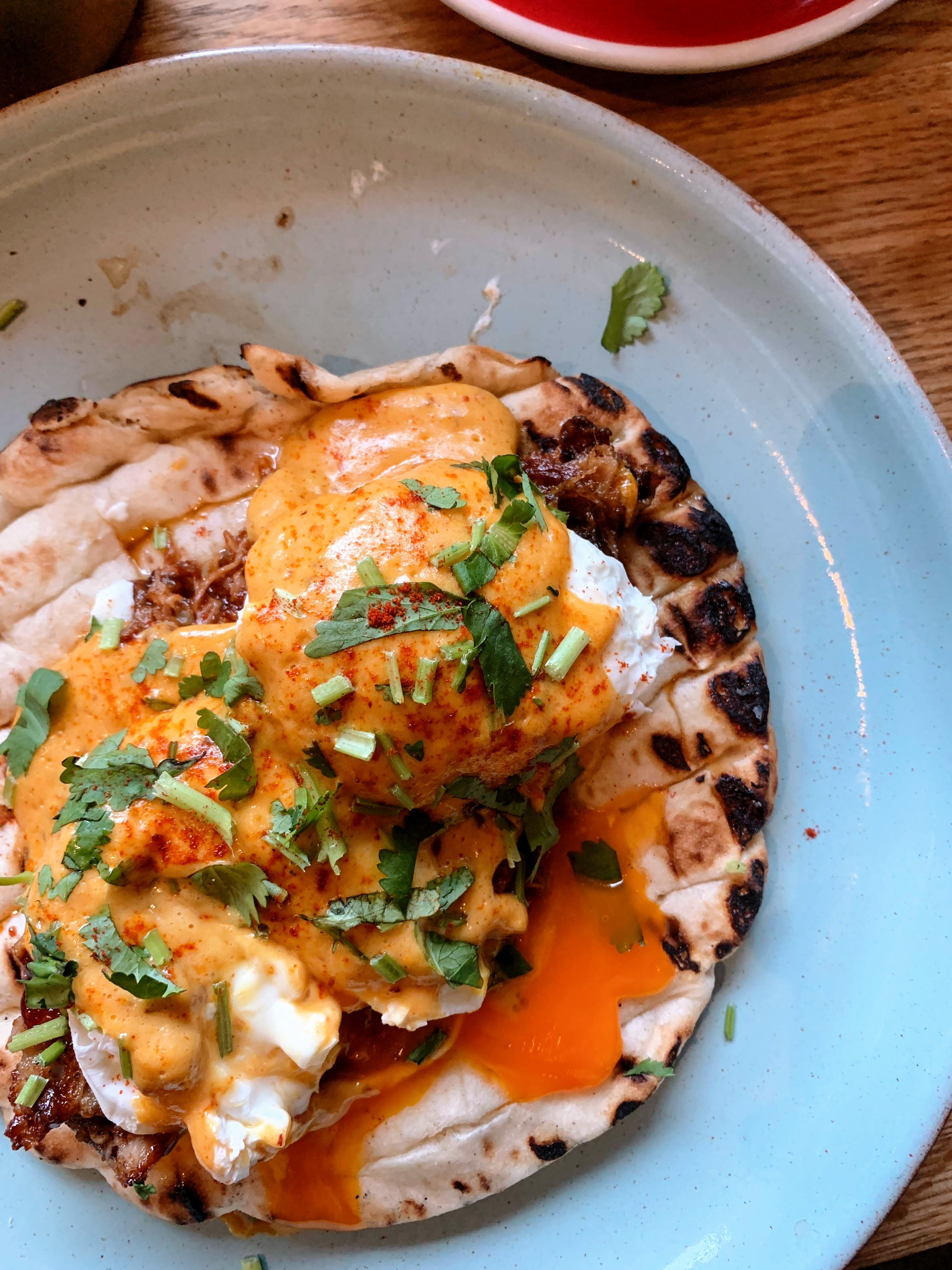 Pulled Pork Benedict – £10.50
The pulled pork came on a fluffy warm flatbread, drizzled with a glorious chipotle hollandaise. The pork itself was tender and flavourful, complemented by the rest of the components of the dish – two perfectly poached eggs, smoked paprika and crispy shallots for a finishing touch. All in all, it was delicious. And before I knew it, it was all gone – straight to my mouth and into my tummy!
Another menu item worth mentioning was my salted caramel hot chocolate which came in a generous serving (enough to fill two cups). I sometimes find hot chocolate drinks to be too sweet or too sickly after a couple of sips but this was definitely not the case with this one.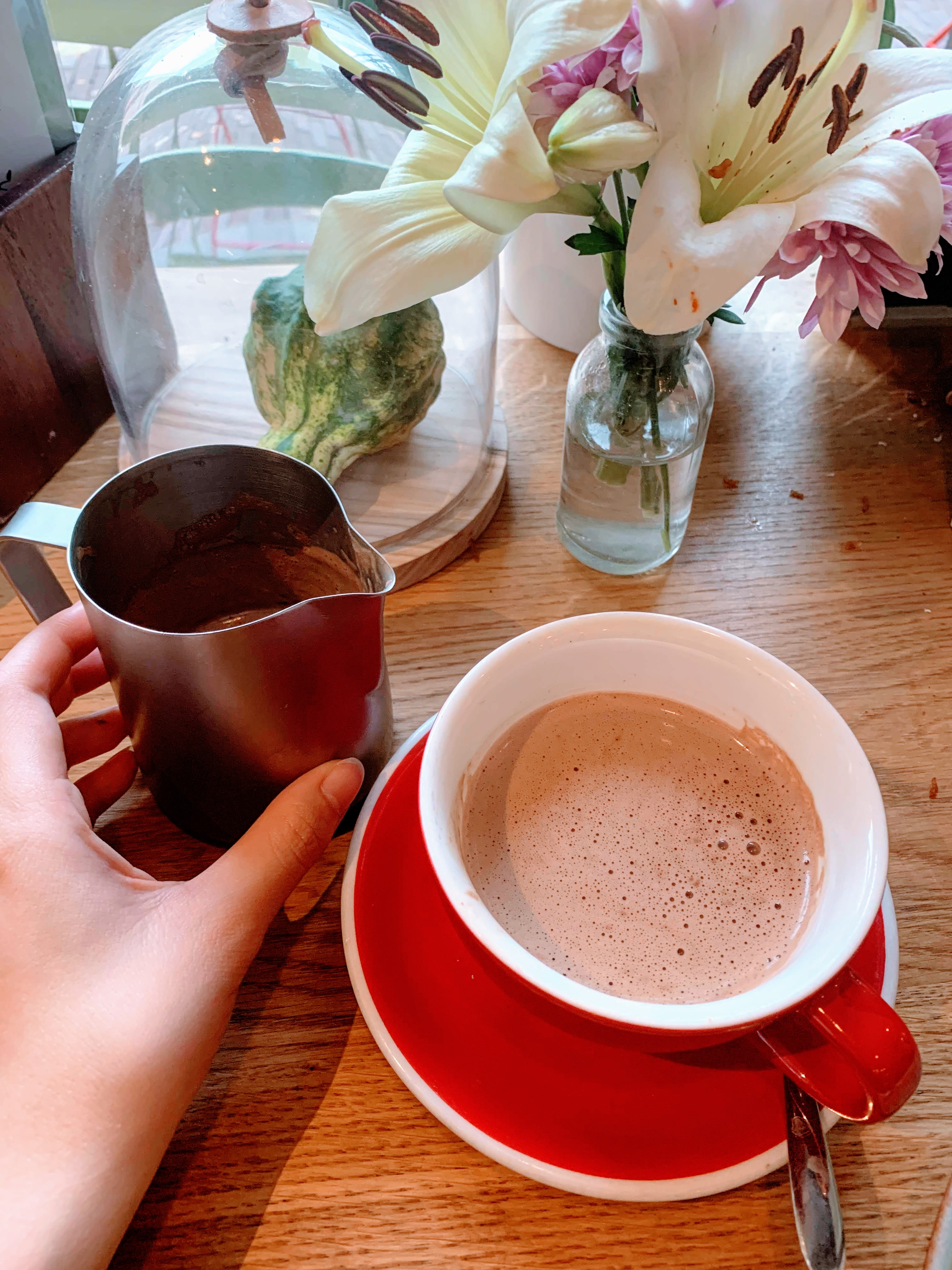 Albeit not having the chance to try more dishes, I'd definitely recommend Pear Tree Cafe as a worthy breakfast spot if you're ever around the corner. Just simply eyeing the rest of the dishes that came out of the kitchen, they were absolutely mouth-watering. It's just a pity I was alone without the physical AND financial capacity to go absolutely nuts in ordering everything but I can SO imagine coming back again really soon to try the rest of the stuff they have to offer!
ADDITIONAL INFORMATION
They also serve a lunch menu which starts from 11am and a dinner menu from 5pm. You also have a choice of a set menu as seen below.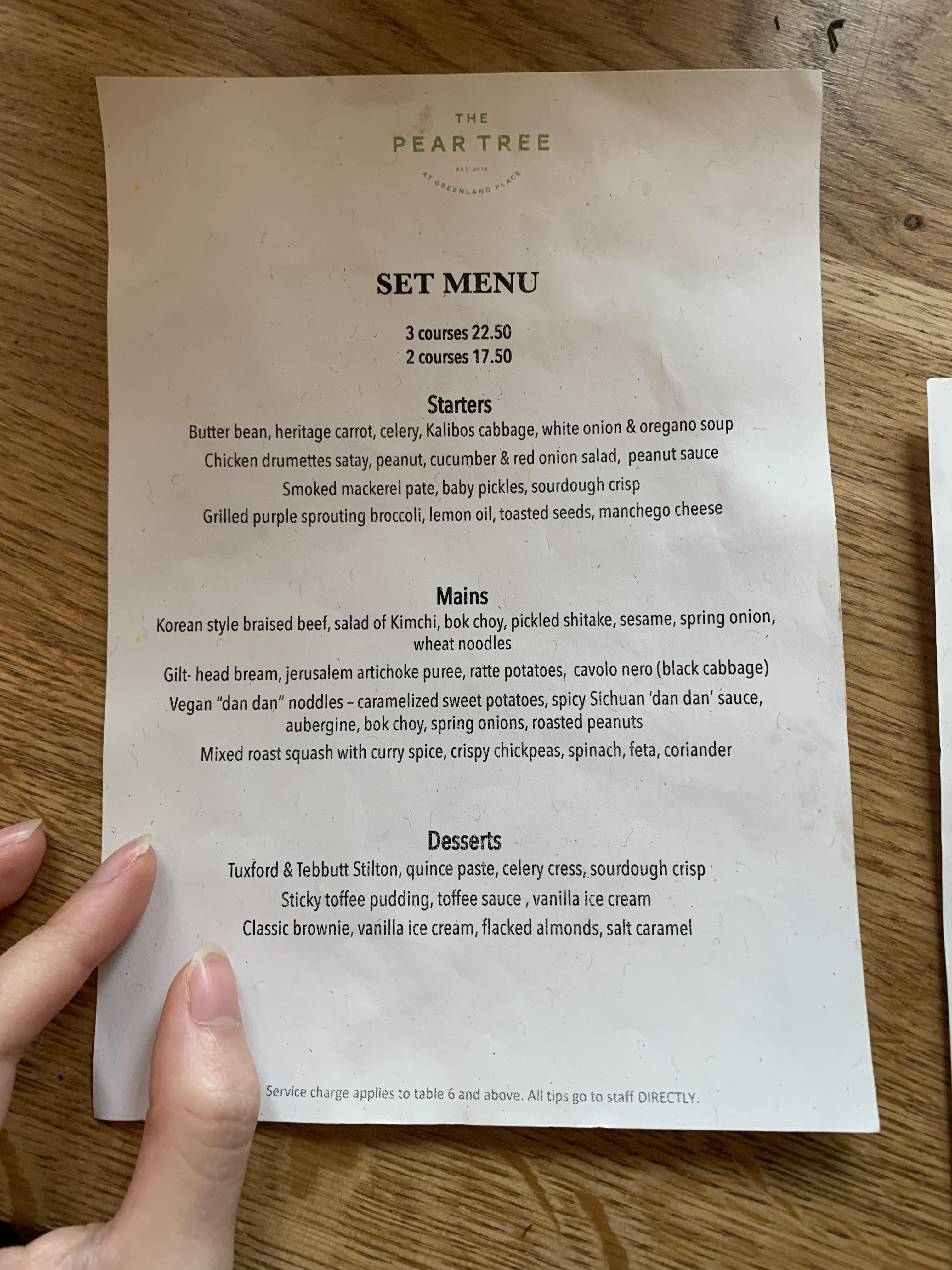 Address: The Pear Tree @ Greenland Place, Yeoman Street, London, SE8 5ET