Need some help with gift giving? Look no further! We've created the Breakfast London Gift Giving Guide to take the stress out of your search, because whether you're shopping for an acquaintance or a loved one, and no matter your budget, there's something for everyone in this guide.
The awesome thing about our gift guide is that pretty much everyone loves breakfast. And (god forbid) even if they don't, everyone experiences mornings, so whether it's a pillow that they rest their head on, coffee that they drink on the way to work, or a damn gift card because you really don't know them very well, there's something for everyone! And – wait – did someone say 'Champagne Brunch'?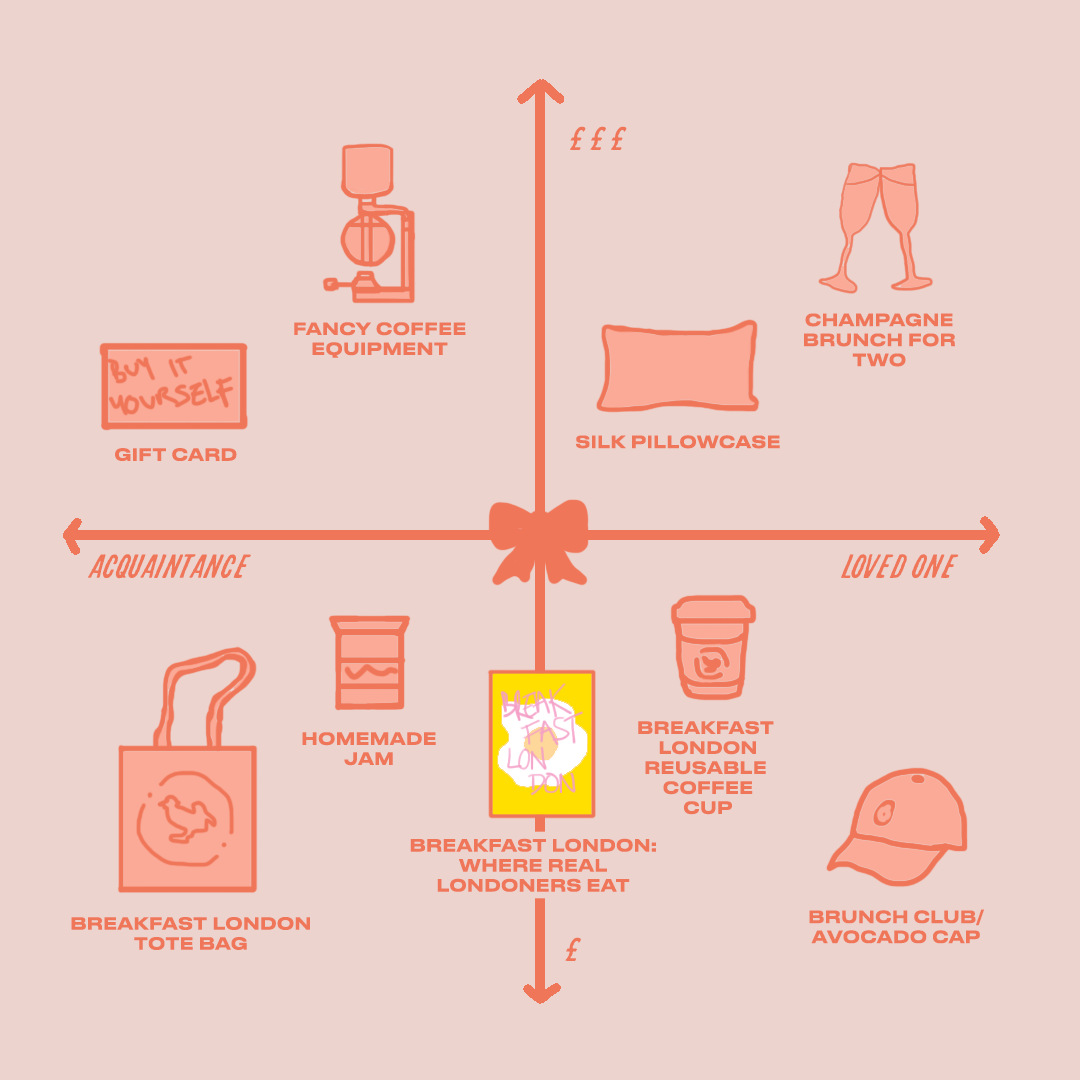 The Acquaintance
Breakfast London Tote Bag – £
Let's get real – you don't really know this person. But you can assume they probably carry stuff around with them. Help them do their bit by saving the world and using this cute canvas tote bag instead of a shopping bag when they do their next Sainsbury's trip. Maybe even give a wink when you pass it to them (or, you know, maybe don't).
Buy it here.
Homemade Jam – £
This is probably one of your family friends you're forced to see once a year at a weird Christmas Eve drinks. Making jam is great because you can do it in bulk and everyone thinks it really came from the heart (which it totally did). Label it "made with love" and you've got your champagne glass poured full for the rest of the evening.
Breakfast London: Where Real Londoners Eat – £
Ah, our pride and joy (as you can see by being the only illustration in colour). It's the perfect gift for absolutely anyone or any reason, if we do say so ourselves. A secret santa gift for your old school friend at a Christmas dinner reunion? A stocking filler for your teenage cousin moving to London? A gracious gift for your brunch-obsessed best friend? A present for the in-laws so they know where to take you when they visit? All of the above. Don't @ us.
Buy it here.
Gift Card – £££
You can put however much you want on this, but the thing is, the monetary value is all you can really see, so you can't really cheap out here. Drats. There are gift cards for pretty much anything these days, but we'd suggest a breakfast spot because everyone's got to eat (and if it's a cool spot they've not been to, BAM, you're instantly the cool gift-giver).
Fancy Coffee Equipment – £££
Even if they don't use it or want it, it's a fabulous gift to re-gift, or just to have proudly featured in your kitchen as if you're a coffee geek. I'll have all my coffee brewed out of my Siphon from new years, thanks.
The Loved One
Brunch Club/Avocado Cap – £
Know an avocado lover? Get them an avocado cap so they can shout out about their love for the breakfast phenomenon loud and proud. Have a group of friends that you brunch with pretty much every weekend? Get them a Brunch Club cap and make your brunch squad official. It's as easy as that, really.
Buy the Brunch Club Cap in Black or White here, and our Avocado Cap here.
Breakfast London Reusable Coffee Cup – £
First off, you're about to help someone contribute to saving the planet. Well done you. And you can do it in FIVE different colours! Whether they're a flat white fanatic, hot chocolate hoe (guilty), or a breakfast tea babe, they can sip their favourite beverage while doing pretty much anything. On top of that, most places give you money off your drink when you bring your reusable cup, so they're actually going to be saving money because of this. Maybe invest in one for yourself too?
Buy it here (five colours available!)
Breakfast London: Where Real Londoners Eat – £
Same as when listed in 'the acquaintance', but we won't make you read it twice! Although do scroll up if you skipped it.
Buy it here.
Silk Pillowcase – £££
Who WOULDN'T want a silk pillowcase? Something extra soft to sleep on and wake up to every single night and morning? And the promise of helping you reduce facial wrinkles? This gift is a dream, and a sure-fire winner to whoever is lucky enough to be on the receiving end.
Champagne Brunch For Two – £££
Champagne brunch is probably one of the best gifts you can give someone, because not only is it a gift for them, but it's also a gift for you – assuming they take you of course. And if they don't, then maybe you should rethink this entire gift. Maybe creep your eyes back to the £ section.